This was my submission....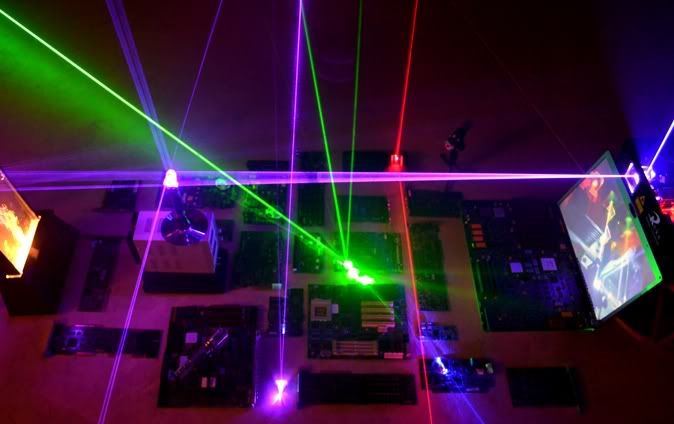 In my picture I intended to build a miniature city-looking grid as viewed from above or on a map, with a bunch of lasers shooting symmetrically but also aligned with the streets between the boards. When it came to taking the shot (birds eye view) and capturing all the beams I was too far above everything to see the fine detail, so the layout/background didn't play as much a role as I wanted it too.
Clockwise from the top left corner I have an 80mw 532 laying on the floor hitting a crystal and splitting twice at the center of the shot. Top center I have a 380mw 405 also on the ground shooting at a prism to the bottom of the pic, which reflects the beam upwards. Next to that, also top center right is a 200mw 650 red bouncing upwards off a prism being fired at ground level from the bottom of the pic. On the right side of the shot is my Reke500 RGB shooting a preset flat line pattern of 405 to a crystal balanced on top of a Helios host and reflecting 90° left, right and upwards as well as partially through the gemstone. The top of the scanner is off allowing another 405 reflection to shoot upwards. It is also reflecting off one of those water-bubble wall things on the left side of the shot at a slight angle bouncing back towards the projector but just above it. Just under the scanner is my laptop with a desktop background of the inside of the Reke showing the dichros passing and reflecting RGB plus yellow and purple in the beam color mix. This is also not too noticeable in the shot even though I wanted to add to the overall beamage, but the laptop background looks dim in the final shot. Barely noticeable from the bottom right of the pic is 100mw of 445 hitting a glass sphere, just to the right of the 650 red beam. Finally, in the top right and bottom left of the shot I have 2 Solarforce L2P 445s on tripods pointed diagonally at each other, awaiting battle. Both are 1.8A brightass blue beams and I decided not to use them because their intense brightness overtook the other lasers. I also didn't want to burn the damn house down, these things are beasts! :crackup:
Like others have said, I too enjoyed entering this competition and coming up with something I normally wouldn't have tried. I also enjoy seeing what other folks have done with their submissions and how they did it. Thanks for sharing your explanations! :beer:
PS - Bobhaha's assbeam shot was awesome still cracks me up hehehehe!
Last edited: