Joined

Apr 2, 2009
Messages

10,597
Points

113
These pics are not pretty. But need to be seen (sorry)
They come from 1918 & 1919.
The pandemic from then SHOULD be a lesson to us now.
'If we do not learn form the past we are destined to repeat it.'
This is more true now than ever before.
example: there was a HUGE 'Bonds for War' (WW1) parade held in Philly and thousands were exposed and infected.... many died.
This year we had Madri Gras-- and the same thing happened.
OK?
I am currently studying to become a 'Contact Tracer' there are not enough CTs ATM. My classes are free and from home. Pay starts at 15$ per hour and can be done entirely from home. You could get the 3 needed certificates in about a week or two.
It was CT that help to end Eboli-- it has been around a long time now.
One lesson was about pandemics thu the centries.
The more I read the worse I felt about our future.
IMHO the estimates of the number who will die from Covid 19 is far from accurate.
One past epidemic killed 1/3 of the worlds people. They say it only 'ended' because those alive had it and were therefore immune-- the rest died.
Pretty grim.
They too opened everything up WAY TOO SOON. (sound familar?)
I kinda pisses me off that Trump insists to call COVID19 the 'China disease' and crap like 'Hong Kong Fluee' --atm is it not clear where it started and some say it was in the USA first. We may never know for sure.
THE SPANISH FLU was misnamed-- Spain was NOT in WW1 so they published accurately the infected and deaths- the USA and others did not want to publish anything that made them look weaker during the war.. so it got called the "Spanish'' Flu -- just like we are doing now --China Flu?
MYB not.
IF you are very high risk (like me) you need to know as much as possible.
New things are being found often--like the 14 day quarantine-- some say now that 21 days are needed. and 6 feet away?? MYB it should be 12 feet.
Also being immune from having Covid and no longer able to catch it...may only last a few months.
The biggest problem is knowing who can infect others, as now some are asystematic -- showing no or very few signs--but able to infect others ... btw kids can get it- spread it but never be sick.
The two days before the first signs/symptoms we are able to infect others while hardly anyone could know they were exposed and infected.
so
do some reading while you still can.
Know the signs- and at LEAST stay away from others until a few more days pass. (there are more than a dozen.. sofar)
The most common signs are chest pains and difficulty breathing-- Some have a fever then but others do not. Fever over 101. is bad sign.
If you can no longer taste or smell --bad sign. also Dry cough is common also a runny nose,,- chills,- dirarhhea, overall aches, - inability to wake up or stay awake, if your face or fingers have turned blue (you may be just days away from death)
...IIRC there are currently about 13 signs and SOME of those infected will have NONE of them.
that is scary!,
I understand that this thread is not the best place for this --sorry about that.
so Isolate if you are infected and quarantine if you MAY havae been exposed.
For almost all -- it is 14 days--day of first sign and two days before.
so 2 +12. not all that long--
wow now I read that our pets can be infected--when the pandemic first started in four weeks every dog and cat at every shelter got adopted or fostered (cloud silver lining) but a bunch got surrendered too.
But that was before we knew our pets can be infected and MYB able to spread Covid.. When will this nightmare end? who knows. estimates on total deaths is between 300K and one half million.
If you think you have ANY symptoms PM me so we can 'talk' .
Chances of surviving drop rapidly if you wait.
Waiting just one day can be very bad.
IF you have signs-start a list of who you had contact with for the days before getting some signs and stay away from others until you are sure.
Doing more rather than less is NOT OVERKILL.
BTW Testing is far from perfect --lots of false results. And just one test is not enough.
stay well stay home
hak
I got these picks on-line.
And they tell a sad story.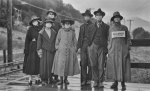 the boys are wearing Camfor bags around thier necks as at the time it was thought that doing this would make us safer.
I need to find that pic so I can add it..sry
and spitting was at first seen as about the only way to spread.
know this-- cheap paper masks and things like bandanas are not working.
WE will see people wearing both a mask AND a clear face shield-- one place I read added 'its overkill' to wear both --poor choice of words IMHO.
Last edited: