Hello guys!
I already have a 488nm 55mW pointer. The 488nm served me well and i always wanted a yellow one.
But yellow is so god damm expensive that i don't like the idea of buying an DPSS 5mW for a price of a old used car.
So one day im gonna build a RGB wich can do yellow and purple.
This is the day:
I am currently building a 3,3W RGB Laserpointer!
The Idea:
I don't want a 500mW Sanwu one, and building is more fun anyway.
I did choose the following diodes:
1W NDG7574 (520nm)
1,6W PLTB 450B (450nm)
700mW GH0637AA2G (638nm)
This will give me around 3,3W without overdriving the diodes too much.
I know this will not give me a good color balance, to much green/Blue. But i like the 488nm so much i think i will enjoy a powerful cyan beam.
For purpel/yellow green/blue needs to be turned down.
BUT i don't like the bad divergence that the diodes are producing. I like to use beam forming!
My optics skills don't allow me to do beam forming and i don't think that i can get it aligned right. So no beam forming?
One night while browsing the www i did find a company that offers beam corrected diodes in a pointer friendly packages.
35 long and 12mm diameter ! So i started planning.
The Start:
I am using fusion360 to model a laser head.
I like to keep thinks as small as possible.
This is what i did come up with:
Diameter: 32mm!
Length: 52mm!
But will this work? Gluing the mirror / dichroic filters without a way to adjust them?
So without knowing i used a manual lathe and mill to make the laser head: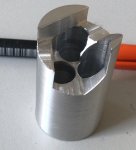 My milling skills are also not up to par. However it turned out "ok".
Considering i used a chamfer tool for a cordless drill to mill the 45° it turned out great
Did it work?
Time to glue the optics .. oh boy not an easy task.
But did it work?
See for yourself:
This beamshot is taken after a distance of around 20m so beam alignment is near perfect, but still room to go.
The optics are also still dirty.
Nonetheless i am happy!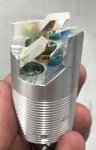 Next the interface for controlling the Module.
I did search for drivers and did not find anything that fits.
I am thinking about a encoder typ interface with a RGB led as feedback.
Like: Pressing the encoder switches the chosen lasercolor and shows the color with the RGB Led.
Turning the encoder will adjust the brightness of the chosen color. This will give me full control about each diode.
But i am planing more, RGB color chasing modes and some other fun stuff. We will see...
However there is nothing out there that does what i want.
What to do?
DIY!
What do we need?
3x max 2A stepdown driver circuits that can be modulated in a analog fashion.
reverse polarity protection
laser diode over temperature protection
encoder readout and processing
Also the possibility to display the battery status with the RGB led
All done on a 27mm diameter PCB. 4,7mm thick!
I use a Chinese pcb manufacturer to get the boards done. This will take 2-3 weeks.
No problem, in the meantime the battery holder and heatsink for the head needs to be made.
More time to spend on the mill and lathe.
I am updating if i get something done!
Have a nice day!