Joined

Dec 5, 2018
Messages

147
Points

28
As stated in the title. I've bought a hand full of these sharp diodes in the hopes of finding that sky blue / turquoise color and I've finally found one that I like. Its the 4th out of 6 diodes I've purchased and it's even bluer than one I had used in a tool AAA host..
The color I see on my Samsung Galaxy s9 screen is almost identical to what I see with my eyes
Here is my new EDC in a craftsman led pen light host running on 2 AAA eneloop pros. I'm really liking this host, it doesn't give me any issues as I'm running this at around150-175ma. Maybe I can give it a little more juice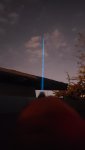 Thank you for looking!