Hi Everyone
,
In the last few weeks I talked to Paul , who helped me with the S1 lenses GB , about replacing the common 501B hosts.
So I came up with a new host(do not have a name for it yet).
This is a quick 3D drawing of the Host
: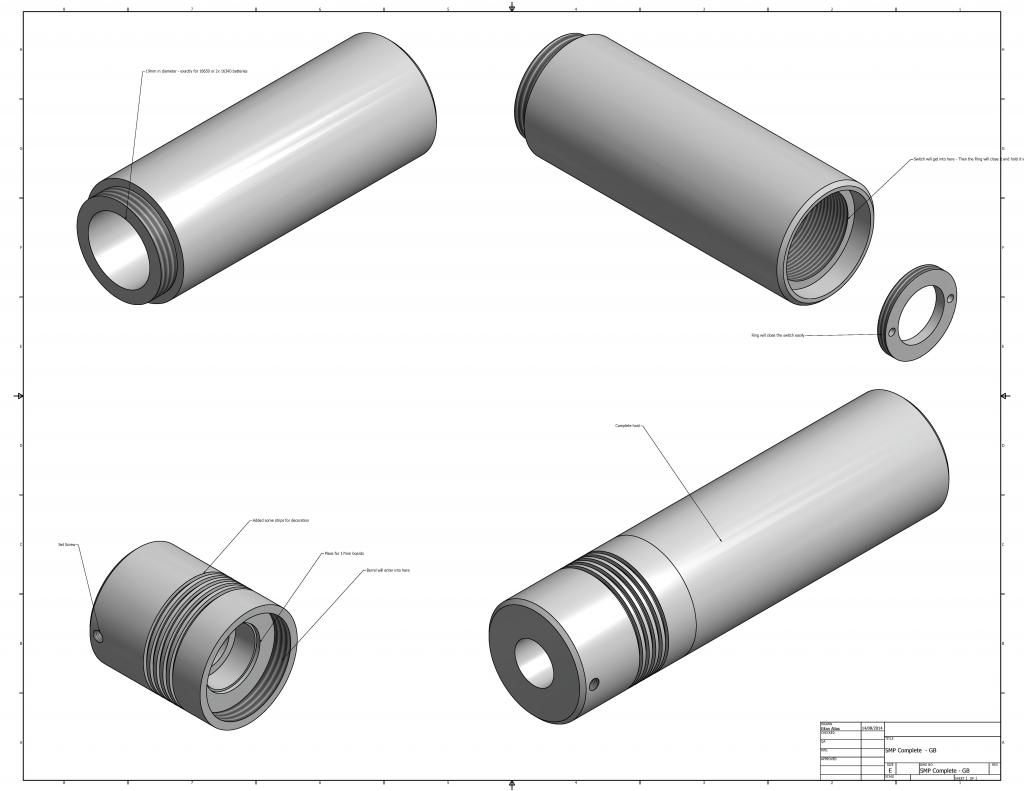 * Please note : full drawing is attached in a PDF file to this post *
Some specs
:
Diameter - 30mm
Total length - 135mm
Weight of the host ( calculated with software - estimate weight ) :
* Cu Head Host - 244g
* Al Head Host - 135g
I must say that I am open to suggestions about upgrading the host or changing it. So if you got any good ideas let me know.
The idea here is to keep the costs low. The goal here is to replace the 501B and other small flashlight hosts we use.
I have designed it in such a way that it has two parts only.
The batteries will be inserted from the front of the barrel. Like in my SS laser I sell here :
http://www.sflasers.us/Stainless_Steel_635nm/p2035127_12415135.aspx
I sent the drawing to my Supplier and got some prices.
I will say though , that I am earning a bit here.
Prices
:
*
Aluminium Host
- $18
*
Copper Heatsink Upgrade
- $5
* Set contact board in place and add leads - $2
Paint prices :
* Black matte / White matte - $5
* Mirror Polished option - $10
These prices include PP fees. Shipping cost will be around $7 for 2-3 hosts , $13 for 3-5 hosts , $17 for 5-10 hosts etc ... So costs are pretty low.
------------------------------------------------------------------------------------------------------------------------
These prices will be for this GB only. MOQ is 75pcs. So when we will reach that number we can close the GB.
For now , I just want to see if there is any interest ? ...
Paul will also help me run this GB. As I understood he is interested in a couple of these.
------------------------------------------------------------------------------------------------------------------------
I would like to hear some comments. But please keep in mind that we are not looking for a host that will cost much. We want to keep it simple :beer:
Thanks Ahead :wave:
Update
: Spreadsheet
https://docs.google.com/spreadsheets/d/1M1l-c2-6gYJaM9lFhz4FBL4nByiTColFkb4tmAFdEQQ/edit?pli=1#gid=2041144254
​
Last edited: