Well-known member
LPF Site Supporter
Joined

Jan 29, 2014
Messages

12,500
Points

113
Regarding the PL530, the LPF price I was offered from the seller in Seattle (if I buy some this week, not sure he will offer them that low later) was 10 dollars each, if buying a full pack of 50 or more. Good price compared to this listing on ebay, but of course, total cost much more if you only want a couple. (Paul, medical is very good in Ukraine and 1/10 the cost compared to the US.)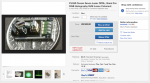 His description:
"Osram OPSL PB530 green laser, holography ! This unique narrow frequency laser will make holograms extremely deep and has a beautiful output beam just made for holography and other areas requiring a narrow frequency Laser light. a nine page PDF specifications can be sent (per request), after purchase. Comes as a seen in the pictures and will be ready for your wiring and testing. These OPSL are very similar in design of coherent sapphire laser but in miniature form ! This laser can easily be run for hours on a proper driver and a phone battery bank (4.5VDC). By proper tuning and active cooling this laser will easily achieve 75mw SLM... set at 50mw or less passive cooling is all that's required...
Please note this is for the laser diode module only, if you will require a driver please see my other auctions as I have this laser available with a controller and will require 4.5 V to run it..."
Additionally, I found the following:
https://www.hou.usra.edu/meetings/lpsc2019/pdf/2178.pdf
According to this article (screen shot above), they are capable of up to 120 mw, I assume if actively cooled.
More PPLN info:
https://www.thorlabs.com/catalogpages/693.pdf
"PPLN is one of the most efficient crystals for frequency doubling. It has been used to frequency double pulsed 1064nm beams with up to 80% conversion efficiency in a single pass, thus eliminating the need for difficult laser designs with intra-cavity doubling crystals or matched external cavities, which are needed with conventional doubling crystals. The power handling is excellent for infrared pump and output wavelengths (e.g. SHG of 1550nm → 775nm); however, when using PPLN to frequency double into the visible, the power handling ability of the crystal is more limited. It has been demonstrated that PPLN can handle up to 600mW at 532nm when frequency doubling 1064nm. The exact power handling limit and conversion efficiency depend on the properties of the laser beam used (e.g. pulse length, repetition rate, beam quality, and line width.)"
Last edited: