Hey Guys,
i am currently working on a DPSS laser driver that includes two Tec drivers that can heat and cool.
The driver is powered by two 18650 cells and uses step down (Buck) converters to step the voltage down for the TECs and the diode.
That makes it quite efficient, i simulated and calculated something around 95% for the TECs and the diode.
Both included TEC drivers can switch the tec polarity to heat and cool both the diode and the crystal. They can deliver a maximum of 6A into the Tec.
The driver controls the power into the TECs with a PID loop to keep the temperature of the diode/crystal steadily regulated.
Same for the diode drive, it can deliver up to 6A into the pump diode and is electronically controlled.
The driver is powered by a microcontroller and features a display that lets you adjust the set point temperature for both tecs and the laser diode current as well as some other stuff.
There are also all other standard features like:
- battery under discharge protection
- reverse polarity protection
- battery state display
- overheat protection
- sensor error detection
Some preliminary pictures: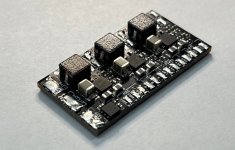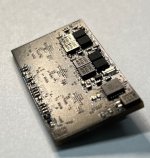 The best part: the driver is just 39x19mm big!
The display interface currently looks like this (but will still change some in future development):
Showing the battery state, selected pump power level, crystal and diode temp, if the tecs are heating / cooling.
The menu lets the user than select the set point temperature and max diode current.
The development isnt finished yet, however i come close to getting PCBs done for my final version.
So i would like to ask if someone would be interested in buying some of these.
I would than go ahead and order more that i need.
Last edited: