Hello Guys,
I did make a 3 channel driver that can be used as the complete control electronics needed for a RGB laser pointer.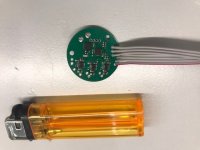 Features:
- 3 Channel with up to 3x 2A completely spike/surge free
- MM config (950mA Red / 2A Green / 1.7A Blue) or SM config (250mA Red / 350mA Green / 250mA Blue) or Custom as you Like
- each channel is analog dimmable
- 2x 18650 lipo voltage input (6-9V input)
- Battery state can be displayed with RGB led output
- Battery under voltage lockout to protect against battery over discharge/damage
- over temperature protection
- reverse polarity protection
- short circuit protection
- Very small 27mm diameter 5mm thick
- high efficiency buck current sources for long battery runtime and
- no cooling needed for the MM / SM config
- Userinterface (for color control / mode select) with rotary encoder
- fast color modulation for Rainbow circles/Lines/spirograph
- multiple automatic colorchange modes with brightness and speed adjust
- brightness adjust for each color to mix the color you like
- last used brightness and color gets saved
The driver has a rotary encoder interface. It features a RGB led output to show the current state. Can be used with a RGB rotary encoder.
The encoder is used to select the color and disable/enable the laser.
The software currently offers dimming of the 3 colors for color mixing. There are also color fading modes -> RGB fade -> Color switch -> random Color -> Random Vibrant Color.
While the automatic color fading modes are running, the speed and brightness can be adjusted.
Price will be 89,99€ for the normal version (multimode) excluding shipping.
The price will include one fully assembled PCB and a RGB rotary encoder with translucent knob.
You only need to connect the diodes to the PCB, connect the rotary encoder and supply power.
Solderpads are through hole, so should be easy to insert wires and solder them on.
Shipping will be from EU to everywhere.
Last edited: