Joined

Aug 16, 2013
Messages

979
Points

43
Hey folks
Here is what I have today, A great host with a powerful diode. Survival Laser host and an 3.5W NDB7A75. At the end I will discuss some problems and complications.
I started with these parts:
-3.5W NDB7A75
-S4x bare aluminum host
-1 LG he2 li-ion battery
-SXB boost driver set to 3.2A on test load with four diodes selected. w/4.5A max
-1 momentary side switch. Rated at 3A @ 230VAC
-drilled out pill
-3 element lense
Ready set go!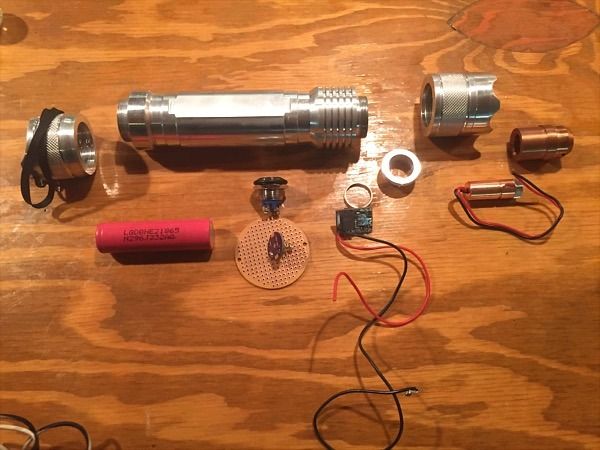 The first thing I did was modify a contact spring I purchased from Flaminpyro, it doesn't quite fit so I had to add a pcb board to the back and re solder the heavier awg 26.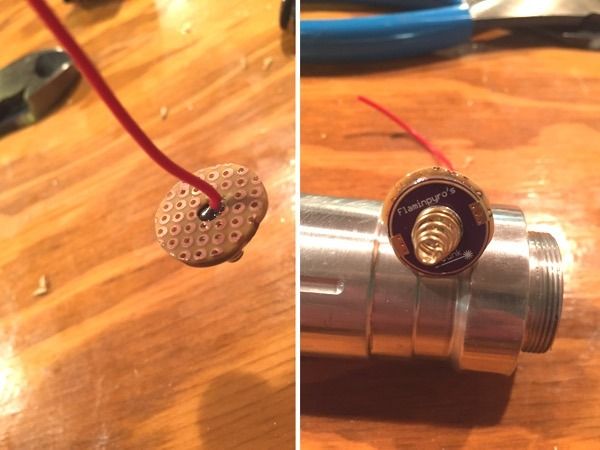 Next I had to drill a 5/8th hole. To leave room for switch I decided to use an SXB boost.
This was tricky... I had a 1/2in bit. After that I used a burr bit. My instinct told me that I should protect the wire inside. Ignoring that I proceeded... The bit burst through and nailed the wire. It was trimmed back and spliced well with solder. :/ live and learn.
It looks dirty in the photo but is pretty solid.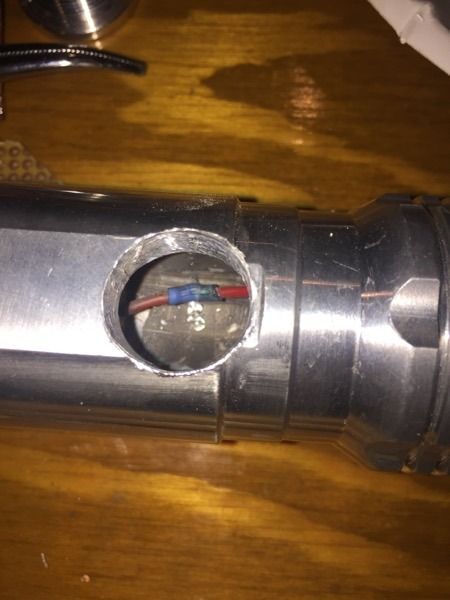 The switch was installed and the driver setup. (The driver was set to 3.2A before this I just installed it at this point)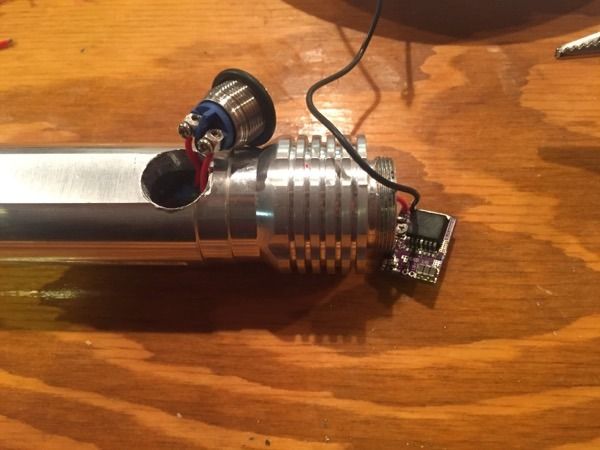 Originally I designed this for the pill to thread into host then crush the brass ring between the pill and body but the ring was too small. Ordinarily the contact point would be here for a buck drive but this isn't standard. Ahh, I had to improvise:
The laser head threaded perfectly on the host body and pinched. Hardly noticeable.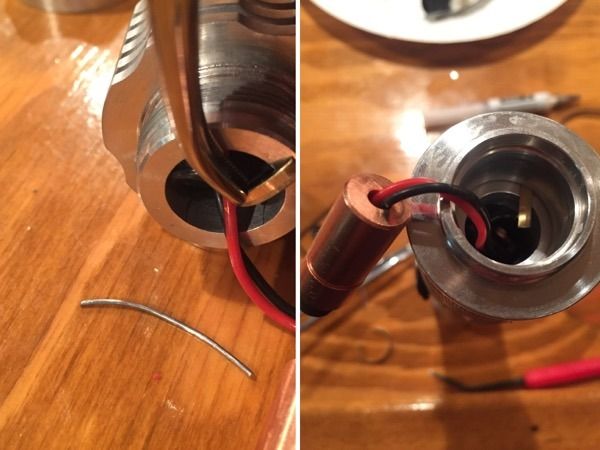 Thread the bezel ring on with the extented copper heat sink and everything should work well. Right? Mostly
Beam shot!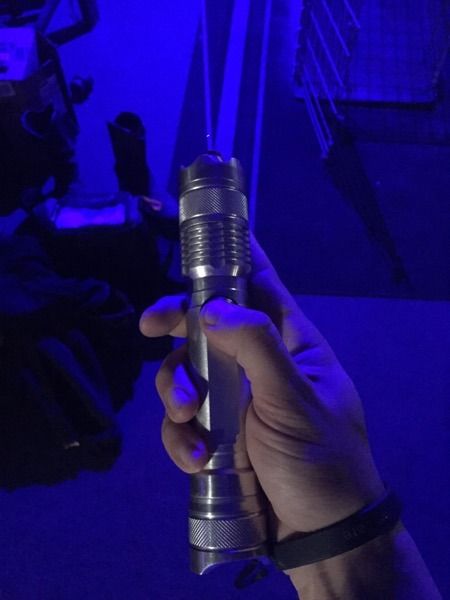 Here's where things get interesting. I'm happy with this build just need to iron out some details.
The beam didn't appear to be 4W bright. I have seen this diode in action and I'm not getting the expected power.
When I metered the laser I got 2274mW.
I qurered Jordan about the diode and he suspected the current draw on the SXB was too great.
I have 1-1.2ohms of resistance in each switch(tail and side) and the resistance in the wiring fluctuates between .9 and 1.1.
The current draw on the tail cap is measured at 2.57A with the DMM.
I switched the battery to a Panasonic. No change.
Options? Switch to a buck and use two 18350s ?
Unfortunately I don't have a variable DC power supply but I could bypass the switches and connect directly to the driver to see if that is where the problem lays.
Thoughts, comments, advice?
Thanks for reading everyone!
I know it's been awhile since I have posted a new addition to my collection.
:thanks:
Last edited: