Joined

Nov 2, 2007
Messages

536
Points

18
Hi all,
Here is a review of the Sanwu "Pocket" laser, the 60mW 488nm laser pointer.
Packaging:
The goods came in an anti-static bag, which was contained in 3 layers of bubble wrap enveloppes. The anti static bag contains a microfibre cloth, battery and the laser.
Unfortunately the battery was over discharged on arrival so I cannot take multiple lasers operating at the same time. Francis told me that he would send me another battery so hopefully the situation will be resolved soon.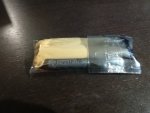 The laser itself
The design is very clean. I personally like it a lot compared to my other "Torchlight" looking lasers.
The body I believe is stainless steel.
The aperture, I think it could have looked even better if the front face was levelled. (The middle inner hollow cylinder might be the heatsink). The focus is adjustable, which would be useful for more powerful versions of the Sanwu pocket series if you plan on burning stuff with this.
The button is a click on / click off which is flushed within the case of the laser. The rear has also a small drilled hole which may be used to attach a lanyard.
Beam quality
I think this is where the laser shines (yes, that was a pun).
This is rough measurements but:
@ 0.02m Beam diameter: ~5 mm
@ 0.3m Beam diameter: ~4.25 mm
@ 3.85m Beam diameter: ~3 mm
Estimated beam divergence: -0.34 mm / meter. (-0.34mRad).
At 60mW, the 488nm has a beam visible in mildly lit rooms and is fully visible at night.
Here's a terrible picture of the beam in my corridor where I measured the beam divergence.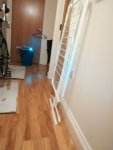 Here is a picture of the beam colour at 488nm on an improvised smoke machine (my rice cooker). I think it's one of my favourite colours yet. Unfortunately due to the power output I can't use it for presentations at work so it's going to stick with me.
You can also see the naturally visible beam on darker backgrounds in the very brightly lit kitchen (I had 3 spotlights on when taking this picture).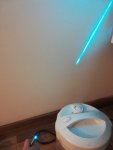 Verdict:
Hardware
I'm very happy with this laser. It is very well built. I would buy another one, if Sanwu could make a yellow one (593/589nm) in the same casing.
Service
I am still trying to get the battery issue resolved. Francis got back to me this morning when I mailed him on Wednesday. It could be due to Chinese new year so I am not to bothered by it.
Thanks for reading!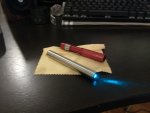 Last edited: