Joined

Dec 13, 2009
Messages

223
Points

0
if you are a regular member of this platforum, you may know that I am a fan of lasers and we are a company for producing laser products.
this is a review for DOHM 473nm dpss laser--please treat me as a fan of laser right now.:san:
we have sold this dpss laser for about two years, and now have some for on sale in an unbelievable price. I am doubt of the quality it is so that I myself test one at random
I took those pictures by my granpa-age-cell phone at day time. it is not very clear.
the label on the laser is 50mw, but I got 86mw when I tested it on lpm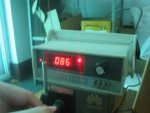 it is bluer than 450nm laser, even at day time in house, we can get a very weak beam--weak, hard to see, but the laser dot is bright--I cannot stare it directly.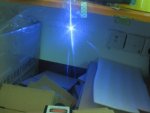 but the laser is very heavy and big. some people may not like this big and heavy one.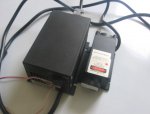 473nm laser normally used on lab and industrial, but I know think it can no problem work on stage lighting.
if you are interested in it, please contact me for more details. and if you can do a review for us, we can offer you a good price for it.
we are now contacted DOHM to produce cheap and low output 473nm laser pointers. it has FDA license and CE certificate, it may can pass most of the customs in EU. when we get it, I will do a review here again.
here after, I attached some information for lasers, hope it is useful for new members here"
there are some issues decide the burning effect and the bright of lasers:
1. wavelength: normally the shorter the wavelength is, the stronger the burning effect is. for example, comparing with those three lasers at the same output, 405nm > 532nm > 650nm. but for bright, 532nm >660nm>405nm
2. output: everybody knows that output is the most important issue for burning if they are the same wavelength.
3. lens: laser ls is expanding lighting, only when it work with focal lens, the heat can be focused on one dot, the heat is the best
4. fl--focal length: normally, fixed focal lens laser get fl on 3-7cm. the heat in those area is the best. fl of a focusable laser can be adjusted, you can focus the laser dot at the the smallest to get the best heat.
5. usage/beam diameter: lab and stage lighting normally get bigger laser dot, the burning effect is less than laser for engraving. normally, laser for lab/stage lighting is about 1.5mm, but laser for engraving is about 0.8-1mm
6. lens: glass lens is better than plastic lens
in conclusion:
1. if you need a burning laser, we do recommend a 405nm laser + focusable + glass lens + 100mw
2. if you need a laser for bright light and stage lighting, a 532nm laser 50mw is enough. or a red one for 80-100mw. or a 450nm 100mw.
3. some instutute use laser for inspecting molecular structure, I do recommend 473nm laser. normally a 50mw analog is ok. the output is 50-90mw. a 405nm 150mw laser can be option.
4. laser less than 5mw for handheld will go with FDA license, it is safe for teaching point. but if you need a laser can point the star for antonny use, a 532nm green 100mw is recommended.
5. for IPL laser, we do recommend 638nm/650nm more than 200mw, 591nm, 445nm.