Super Moderator
Staff member
Joined

Apr 6, 2014
Messages

2,535
Points

113
Well, one of them anyway...
As some of you may remember, being from Downunder, I've only ever seen snow once in my life, a long time ago.
It was brief and it actually wasn't snowing at the time.
But yesterday, we heard that there was snow within a few hours drive from our place so I took the family for a drive hoping that we'd catch a glimpse.
We didn't expect much because usually if there's snow down low enough to be within a few hours driving distance, by the time we get there, it's gone again.
We could feel it getting colder as we ascended up the mountain range and we felt like storm chasers looking to see where this 'elusive snow' is.
Well you can imagine the elation as we could see cars returning down the mountain with snow on them.
A little while later we 'struck gold'.
We finally came up to where there was some light snow patches.
Pressing on we finally came into an area where it had recently snowed heavily.
As we got out of the car and started to walk around, each of us elated that we saw snow on the ground, it actually started to snow and it was unbelievable !!
The temprature dropped and my hands froze, we weren't prepared for such an experience.
I couldn't even make ajustments to my DSLR easily since I was so cold.
Like I said we were hoping for just a glimps from a distance, not a full on snow experience.
We had a ball, the kids were so excited, as were we.
It was such an unexpectely beautiful experience.
We stayed there all afternoon until the sun started to set, at which time we slowing started making our way home again.
And I wanted to share it with you.
RB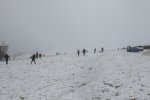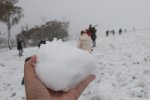 Then it cleared up again and we were greated to a lovely sunny snowy afternoon.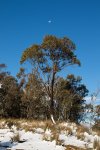 We even found a frozen 'Drop Bear'.....