Joined

Dec 1, 2007
Messages

1,368
Points

0
[size=+2]Micro-Drive laser driver[/size]
Post #2 includes updates and latest news (if I remember to update it!)
You can read the post in Experiments & Modifications with more information
here
.
These are assembled in batches. Typically I have plenty on-hand, but once my stock gets near to depletion, I may run out before more can be produced. That will be avoided, if possible, but sometimes certain components are backordered and take time to arrive.
How much does it cost?
As an LPF member, I give a 10% discount off of my normal prices that makes the drivers about $11.70 for an assembled driver, plus as little as$2.50 shipping charge per order within the US. *International shipping charges are more expensive, but not by much, typically under $5 for standard shipping (usually <1 week, no tracking) or $11 for Priority (quoted as 6-10 days, no tracking) or $27 for Express (EMS, 3-5 days, tracking and $100 insurance).
For advanced users, unassembled driver kits are available for ~$7-9. *Extensive PDF full-color instructions available through my website. *Also, resistor kits which include the extra values needed to change to any of the available output options are ~$1. *It is recommended that you have the proper tools and have had experience soldering SMD components for either option.
[size=+1]To purchase, visit this website: *rkcstr.com, Micro-Drive and laser diode electronics *Make sure you enter the Discount Code "LPF" to get the prices above[/size]
The specs:
A micro-sized driver designed for high power output but able to fit the smallest of applications, including the Aixiz laser module(* see note in second post).
Fully adjustable range of regulated current output from ~30mA up to ~440mA. *Smaller ranges available in kit form as well to improve the ease of adjusting current.
Design based around a low-dropout linear regulator IC (1117 series) in a constant current topology.
Solders directly to any laser diode with standard pin-out
Dropout voltage (minimum input voltage) theoretically 2.25V+output voltage. *So, for red diodes ~5V, blu-ray diodes ~7V. *MAXIMUM VOLTAGE is 12V.
Advanced protection for the laser diode and driver function against reverse polarity and voltage spikes.
Because of the compact size, for higher output values the duty cycle is shorter. *You can read more in here.
[size=+1]
Instructions for assembly and usage of the drivers are available in the descriptions for each item (for assembly instructions, see the kits).
[/size]
Pretty pictures: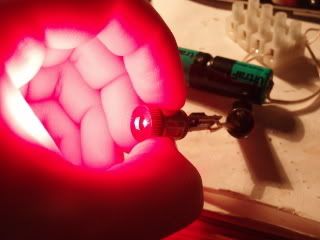 New V3 driver
Fixed-value driver
Full-range adjustable driver
Test load
Last edited: