I'm not really sure if this should go in this section. It's more or less a review of the diode, so here it is.
All images are thumbnails. Click for full size.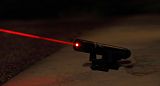 I chose to install this diode in a spare Galileo host I had. It was a perfect host for this diode. It is compact but has enough mass to keep a diode cool. This red diode does not run hot like the LOC diodes but I figured it is best to keep this diode cool, since the wavelength is shorter with lower temp. The Galileo is constructed of aluminum, so it is very efficient at moving heat and it is lightweight.
I already had this host, driver, and a module ready for a diode, so assembly was quick and easy.
In case you can't tell, the Aixiz module is "trimmed" to 11mm diameter and pressed into a brass slug that threads into the Galileo's "head."
Details of this diode can be found here:
http://laserpointerforums.com/f50/40mw-sanyo-635nm-lds-ebay-58430.html
I tested this diode a little bit just in case some others might want to know more about it.
Here is what I recorded for this diode:
42mA - 5mW (not lasing)
60mA - 7mW (threshold)
97mA - 40mW
120mA - 55mW
Test was done with Aixiz acrylic.
It might be worth mentioning that a 650-G-1 gave me only about 5mW more. I am currently using a 650nm Aixiz glass but the power is the same as acrylic.
It's not a lot of data but I didn't think more was necessary.
I played around with the diode at a few different power levels and I can say that there is definitely a small difference in the wavelength when running it at higher current. This is not a diode you want to overdrive. Sure you may get 60-70mW if you push it but the wavelength shifts toward red as it gets hotter or as you increase the current, which defeats the purpose of purchasing a rare wavelength diode.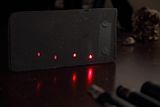 From left to right: 9mW ~650nm, 9mW ~640nm, 40mW 638nm, 300mW 655nm.
The ~640nm pointer used to be closer to 635nm but I swapped out the diode for a longer wavelength one.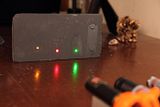 Here it is compared to 11mW 589nm and 40mW 532nm.
At 40mW, the brightness is about half that of 300mW 655nm.
The difference in color is distinct enough. It would be really handy to have a spectrometer, though.
I really like this diode and think it is perfect in the Galileo host.
If you want to see some more of my photos, go here:
http://laserpointerforums.com/f48/awesome-laser-pics-40mw-638nm-pics-added-58916.html#post832458
Last edited: