Well since I already own the Artics, G1 & G2 I went ahead and ordered an Arctic G2 with the newer V2 SmartSwitch. I was very impressed this time around with Wicked Lasers, they sent me a tracking number 4 days after I placed the order, and Tracking showed it was already in Country being processed by Customs. So I sent WL a support question and got an answer back in less than 30mins; very impressed with that compared to the past.
I simply *love* V2 of the SmartSwitch, but I still felt I was missing something for my collection.....Oh yes, I didn't have a Krypton that is what the collection didn't have.
So I decided since I had a very good experience this time around with both the shipping time and an answer to a support question with the newer Arctic, I knew it was time to order a Krypton.
On topic now, I ordered a Krypton 1W with all the trimmings, same thing again, Wicked Lasers sent me a tracking number in 4 days and it again was already in the country being processed by Customs USPS showed.
I must say Wicked Lasers has really stepped-up the their shipping and support systems, I'm very impressed.
The Krypton 1W just like the Arctic's come with a very high quality Sanyo battery and have been for a long time now I'm told.
The Krypton 1W arrived safe & sound with all the accessories that WL makes for them.
The Krypton 1W feels really good in the hands, and is actually longer than the Arctic. During testing I found it has very little IR getting through, so I'm very happy that it is properly IR filtered.
Now on to some pictures;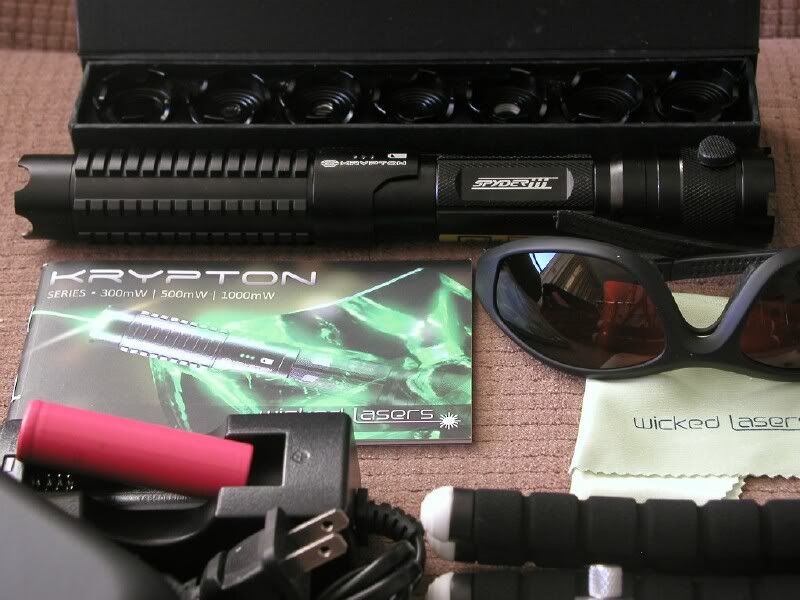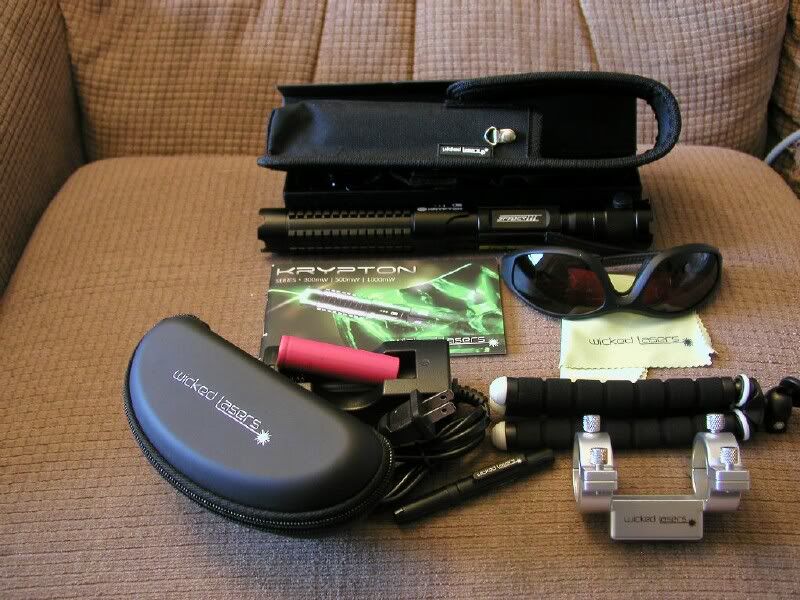 Now for a picture of the Arctic's since I mentioned them too;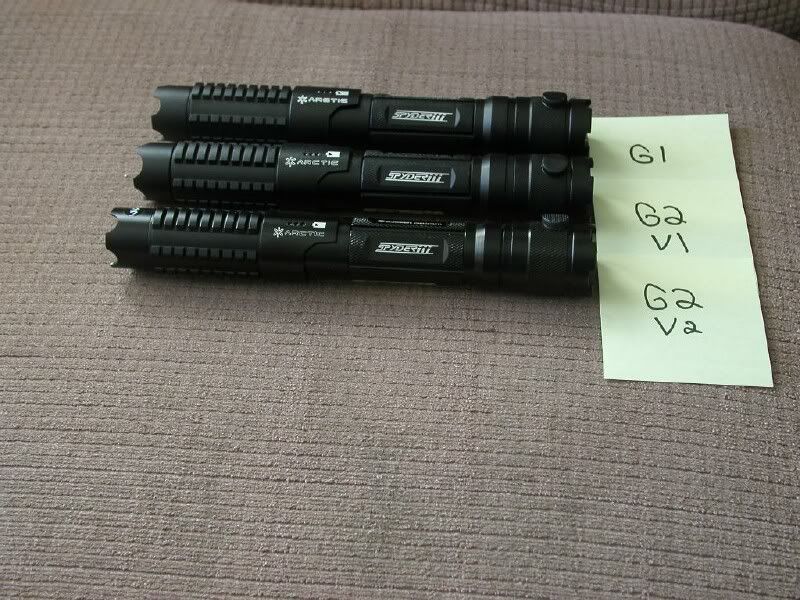 And here are the Arctic's along with the Krypton 1W, so you can get a feel for the size difference;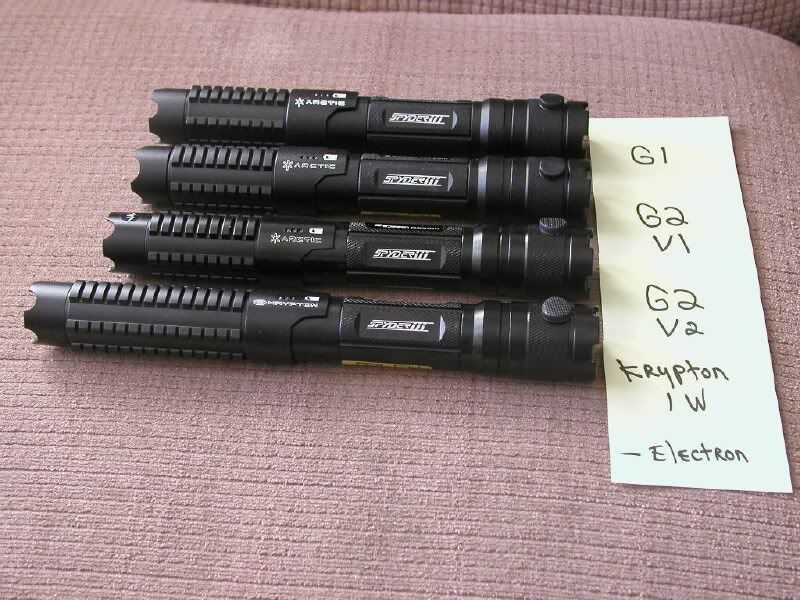 I wanted to use my Melles Griot Beam Expander's on the Krypton 1W since I have them, the one in this picture is of the 10x model. I took out one of the lenses from one of the screw-in lenses and was able to perfectly press it into that lens housing while screwed into the Krypton 1W. I'm not able at this time though to be able to mount it into the tripod because it's only pressed into that lens housing and it does separate too easily; it does lineup perfectly though; need to get a real threaded adapter for it.
In this picture I did the same thing with my Dragon Lasers 10x Beam Expander, pretty much the same story as with the Melles Griot;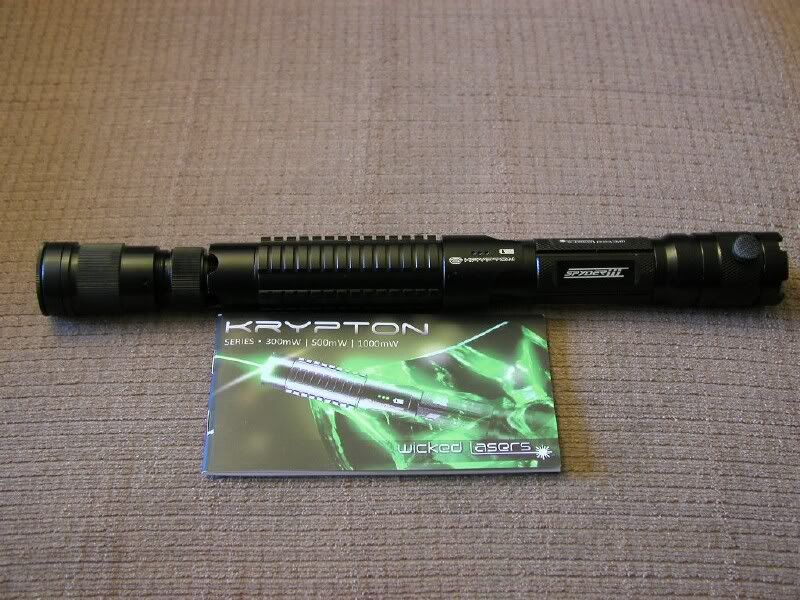 Now onto the power test graphs, I follow the manufactures recommended duty cycles when doing most of my tests; However the Krypton 1W states it is continuous duty. So doing things like popping a balloon, lighting a match, etc takes well less than a minute with the Krypton 1W. I at first though was holding my run time to 1 minute during my tests as I was already done with the usual can it burn this and that tests, so running it longer seemed pointless.
Again though, it's states continuous duty cycle, so I thought why not, I'll Meter it using triple the amount of time I was testing it and which is way beyond any time frame that I have any usefulness of really using the Laser. So here is a full 3 minutes of the Krypton 1W on my Coherent LabMax-TOP Meter. It was a bit cool outside 70 degrees F, and I have the front door open, but in my back room where I'm setup to test, there is no air movement that I can detect and the temperature in that room I measured @ 72 degrees F with a Fluke IR temperature Meter. So here is the results I got;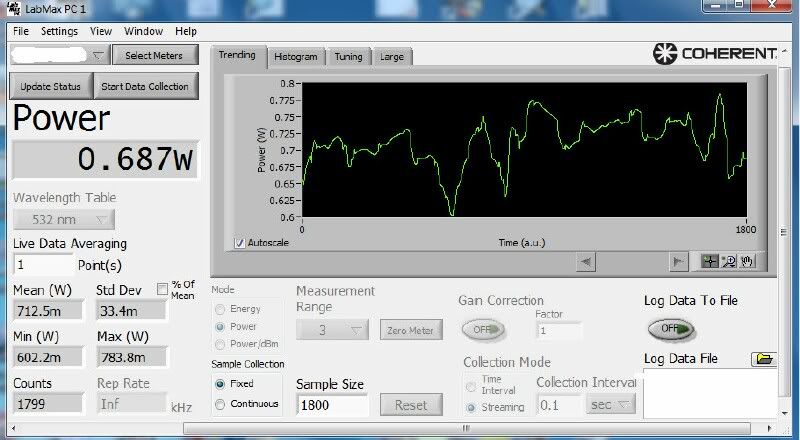 Here is the same results, I dumped the data from the Coherent Meter into a spreadsheet for those that like to see spreadsheets;
So you can see my Krypton 1W Laser Max's out @ 738mW's and it's Average is 712mW's ....... so no it's not hitting the 1W mark, it's a nice addition to my Arctic collection.
Last edited: