Super Moderator
Staff member
Joined

Dec 11, 2015
Messages

1,629
Points

113
495nm 12mm MODULE:
I never got around to putting this into a build, and has less than 30 minutes of run time. This 12mm module is likely running ~110mW, and takes 1 li-ion battery to power on. This is actually my favourite wavelength diode in my collection but I've had it for months and still haven't found the time to make a host for it and built it.
All items have been sold, thanks for looking.
SOLD.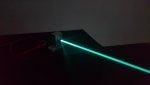 1.5W 445nm CUSTOM BUILD:
This build has been sitting in my collection unused, and is one of my more recognizable host designs. This ever so reliable M140 build still lazes strong and takes two 18650 li-ion batteries.
SOLD.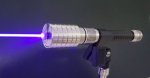 1W 462nm CUSTOM BUILD:
I've just recently restored the copper heatsink on this build to it's original shine as it's aged over time. Small pocket build that takes 1*10440 li-ion battery, producing 1W of a sky blue beam.
SOLD.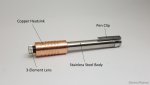 5$USD shipping to fellow Canadians, 12$USD for those in the USA. Will ship internationally, let me know your country for a rate.
Batteries not included.
Thanks for looking!
Last edited: