Joined

Jun 6, 2014
Messages

409
Points

43
I am selling off a few lasers at low prices to recoup some money. I need a new bed. My sleep quality was been starting to degrade rapidly.
First up the Jet Lasers Ple Mini 520NM. it was sold to me a as a 1W here on the forum. However it only measures about 850 mw on my meter at max. There is an issue with the focus adjuster. idk what happened to it but to focus it you have to twist the ring one way which feels like its just spinning freely then rotate it the other way. you can feel it grab and then it will focus but its very finicky somethings lose. maybe someone who buys it that is more handy then me can tinker with it. I would like $120(SOLD) shipped within the united states.
Second laser is the this 900+ mw 638nm laser built by member Lifetime17. Its a great laser. It comes with a beam expander adapter that works with sanwu beam expanders. I would like $65(SOLD) shipped for this laser.
The last thing i would like to sell is a Sanwu Beam Expander. $40(SOLD) shipped with the states.
All prices are already at my lowest offer.
First ill take it gets it followed by PP payment.
Thanks for looking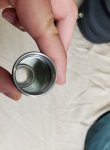 Last edited: