Joined

Mar 27, 2011
Messages

505
Points

43
I will continually updating this thread.
Hi folks, pardon my english.
Proudly present to you all:
Hyperion Laser Power Meter platform.
*This is NOT a sale thread*


For the sale thread, please go to

>here<

Background:

This all started back in 2010 when i'm still on my first year in electrical enginering college, i have my first 532nm 200mW laser from rayfoss after saving up for uncountable month.

It was a good times back then when the quality of material is still on a top notch and of course the price is still high, and one thing missing is an affordable LPM :cryyy:

As you could imagine for a new hobbyist or budget hobbyist or those who only have a few laser and most of it is just a pen laser, getting an LPM is just.. too much :cryyy::cryyy::cryyy::cryyy:

That time i had only those 3.2W OEM LPM you-know-what, and as per my view is a very expensive LPM even though that is supposed to be a hobbyist.

I also remember the radiant alpha $99 is always sold out at that time :cryyy::cryyy::cryyy::cryyy:

After several years, i come to realization that building an LPM is easy, or at least i have a big picture of what to do.

After researching, trial and error, thesis request, and having a bunch of project related to this LPM, i decided to make one cheap platform for all.

The goal is to create a cheap platform so that a new hobbyist and budget hobbyist can afford having an LPM.

Here is the pictures: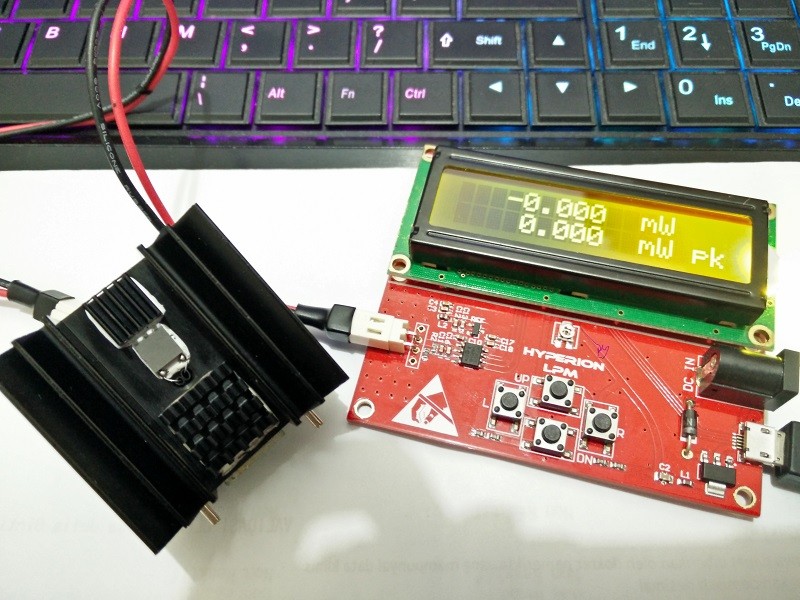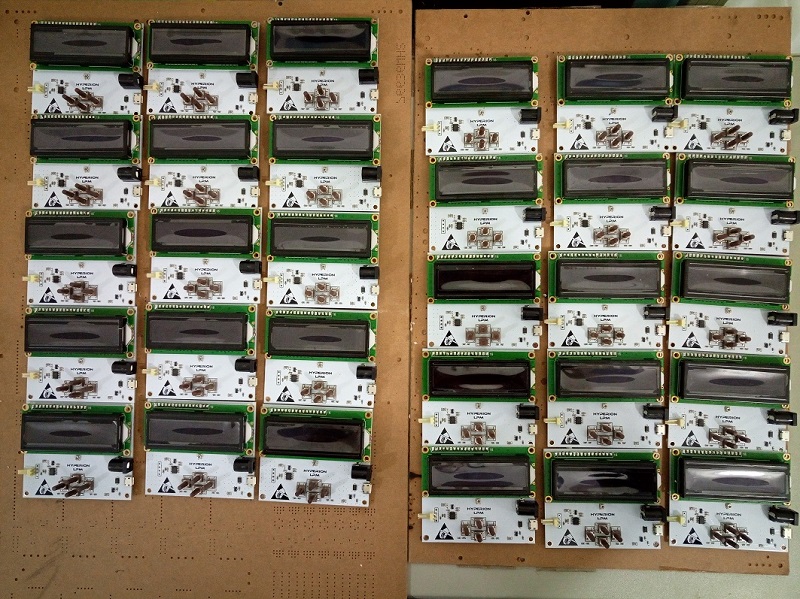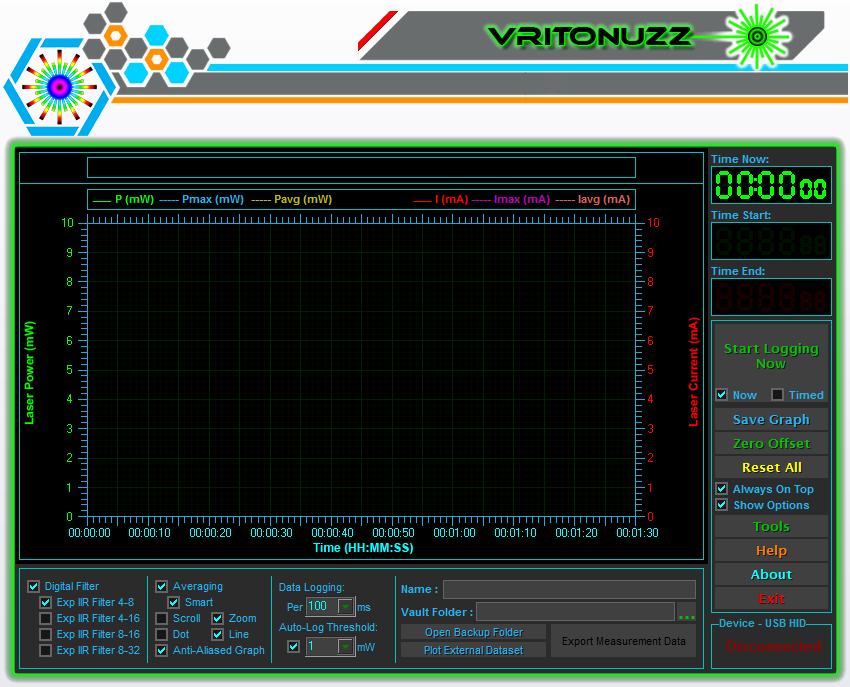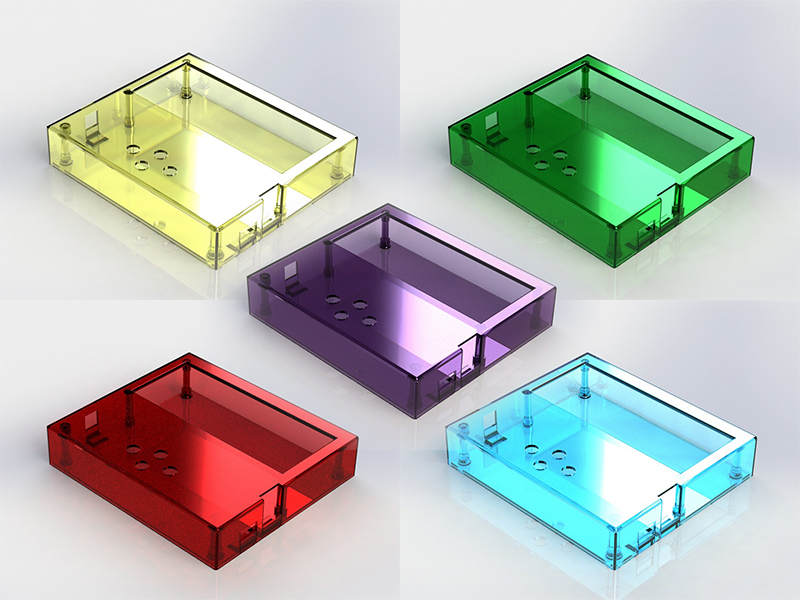 Sensor response time (default sensor 6x6mm):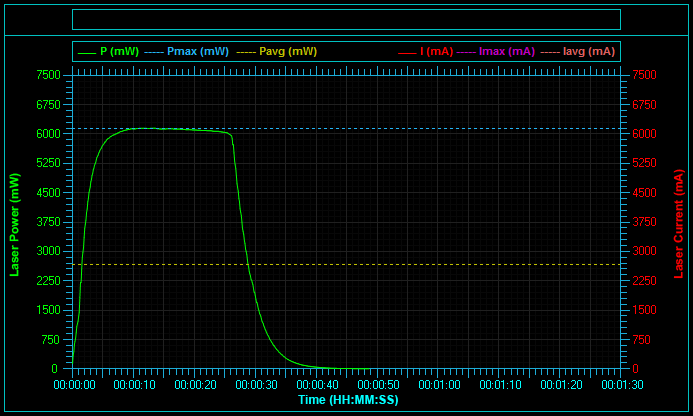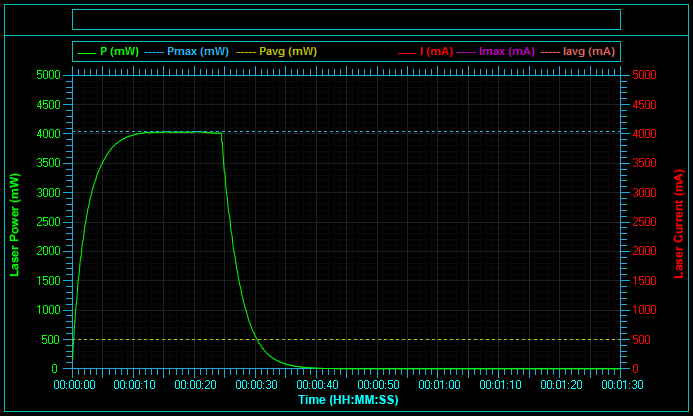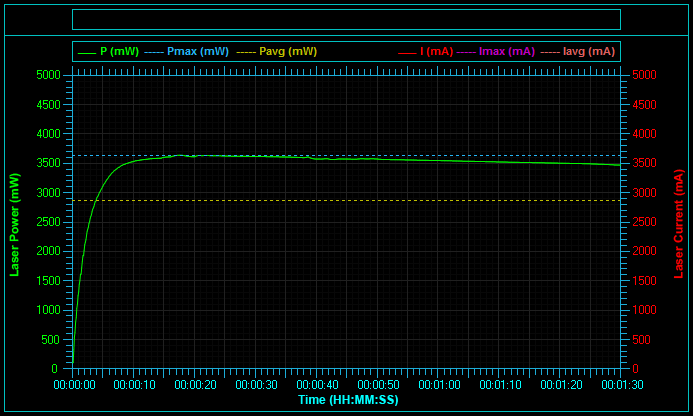 And here is the slower sensor (8x8mm or 10x10mm) response time for comparison:
Hardware interface: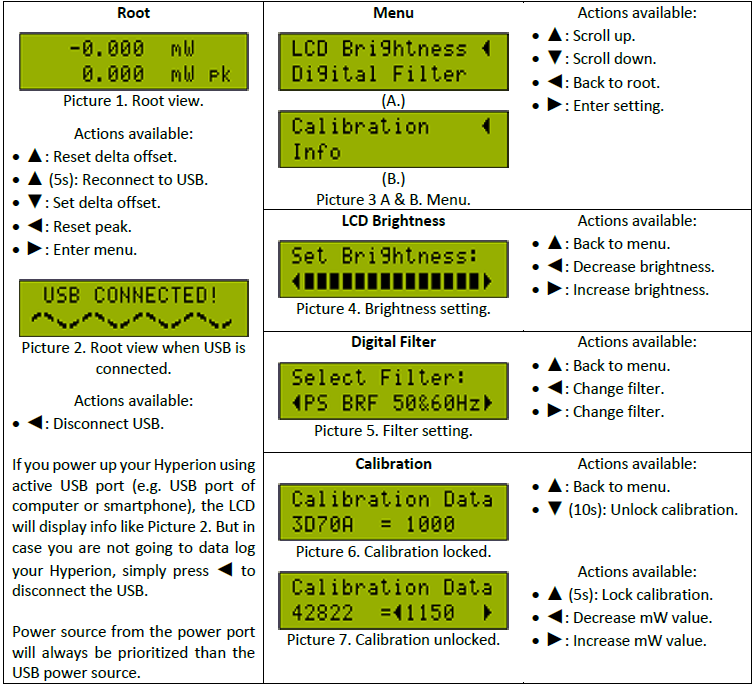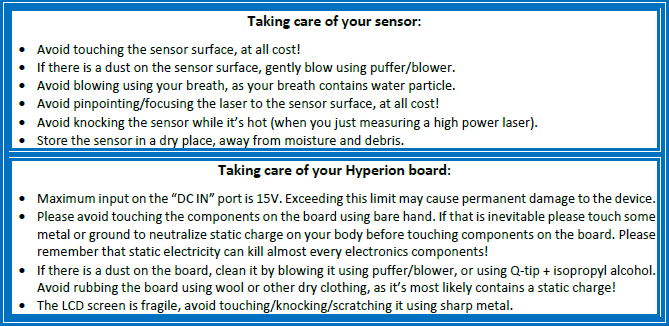 ​
Technical specification:
Max measurable power:

Hyperion Ag:

6W or 15W

*
Hyperion Cu: Using equal sensor like the Hyperion Ag, but limited to

2000 mW

max.

Resolution: 1 uW**
ADC resolution:

22-bit

, yielding 1.192 uV/bit with 2500mV Vref
ADC vref: 2500 mV or 4096 mV depending on stock.
Uncertainty:

Laser power 0 mW to 4500 mW (0 mW to 15 W for uncoated sensor): ±5%***
Laser power 4500 mW to 6000 mW (15 W to 20 W for uncoated sensor): ±5% + (-10%)***

Sensor area:

36 mm²

high speed sensor

(

default

)
100mm² slow sensor.

Options for sensor coating:

HPCVD micro carbon deposition over high temp resistant matte black paint (for detecting low power laser).
High power + high damage threshold carbon coating at least

480W/cm²

(

default

) , tested by focusing

3.6W

multi mode laser into

0.5x1.5mm spot size

.

Results

:

no damage, smoke, or trace at all

.
No coating at all, yielding broadband rejector instead of broadband absorber with

the highest damage threshold

among the three (damage threshold of alumina ceramic Al²O³). Therefore producing higher measurable power albeit at worse resolution (13 uW).

Sensor response time 0-90%:

~4-6 sec

****
Sensor response time 0-100%:

~10-12 sec

****
Display:

Hyperion Ag:

High contrast LCD

.
Hyperion Cu: Standard LCD.

Hardware interface:

Delta-reading (software zeroing).
Peak detector.
Brightness.

Digital filter

.

Easy re-calibration

(only for HyAg).

Vritonuzz

data logging software (

download v1.3.0.162 here

):

Freeware for all

,

support various protocol

.
Tools including

divergence calculator, relative perceived brightness calculator.

Intuitive interface.
Configurable x-axis graph with zoomed or scrolling.
Auto-scale graph.

Various digital filter.

Smart averaging.

Delta-reading (software zeroing).
Peak detector.
Configurable logging time.
Auto-logging trigger by power.
Delayed logging (5 sec).
One-click snipping graph.
Export data to spreadsheet format (

.xls

) and already nicely formatted too.

Plug n play without unnecessary effort like selecting COM or installing driver

.

The board can be calibrated to read from ophir sensor directly, making this board a functional data logger board.
Absolute maximum rating:
DC-IN:

15V

USB Voltage: 5.3V
Measured laser: 6000mW for 6x6mm sensor (coated). 15W for 6x6mm sensor (uncoated).

Please see below
Exceeding this limit may cause permanent damage to the device.



Calibration:
The sensor has been calibrated using consistent dual reference sensor that has been factory calibrated with alexandrite laser 755nm, it may also be calibrated using standard thermopile disk which NIST calibrated at 808nm.
Calibration transfer from reference to the Hyperion sensor done using 445nm, 405nm, or 808nm laser, producing roughly about <5% uncertainty.
If the uncertainty from the reference sensor (<4% from actual NIST value) taken into account, the max uncertainty will be <9.2% from the actual NIST value.
Reading above 4500 mW (or 15W for uncoated sensor) might skew to -10% due to the sensor's Vout saturation.
Here is some more information for people measuring their visible wavelength laser using 1064nm calibrated sensor:
Fact: Even if the sensor is NIST calibrated, doesn't mean that it will 100% accurate when measuring laser with different wavelength compared to the laser used to calibrated that sensor at NIST.
Reason: Because

there is no single coating in this world capable of true "flat" broadband response

. Even for those ophir head, you won't find the specific spectral response chart because they don't want you to know (unless i'm missing something). AFAIK from their youtube, this type of coating absorbs more at wavelength below 800nm, meaning if it's NIST calibrated on YAG 1064nm with 100mW power reference, it won't give you 100mW when measuring true 100mW 447nm. Instead it'll give you readings above 100mW because of more absorption. The workaround for their product is, they are compensating the reading and user can select if want to measure <800nm or >800nm (this choice exist on their power meter interface, AFAIK).

This is also the reason why some OEM design may want you to chose in which wavelength do you need your sensor to be calibrated to

.
Conclusion: Your sensor will give fairly different reading from its guaranteed calibration, if you are measuring wavelength other than 1064nm, especially if your laser's wavelength is below 800nm (Ophir 20C-A-1-Y is calibrated with "Y" = YAG laser = 1064nm). This is also the reason why i calibrated the Hyperion sensor using sensor that has been calibrated using wavelength below 800nm.
Precaution about non warranted sensor:
The default sensor is a 6x6mm peltier. It can be bought here. As you can see those sensor are rated for

200°C

.
A normal operation (e.g when reading 3600 mW laser) can cause the sensor to heat up to

>300°C

which is above the Tmax of those peltier

and can melt the solder joint of the PN junction

. That's why you need to avoid knocking the sensor while it's hot.
Under normal commercial warranty, operating above maximum rating will void the warranty.

That's why even our "normal" operation will void the warranty from the peltier's manufacturer

.
While focusing the laser to the surface of Hyperion sensor doesn't degrade the coating, it will stress out the particular PN junction behind the ceramic where your laser is being pinpointed.

This might cause a temporary or permanent failure to the sensor

.
It is better if you point your laser at different surface area of the sensor on each measurement to prevent stressing the PN junction.

Measuring high power laser continuously can cause thermal runaway on the sensor due to the nature of semiconductor (it'll die and cant measure anything anymore)

. Most semiconductor device/IC has thermal shutdown feature that will shutdown the device/IC when it's reach 150°C, yet our normal operating temperature reach two fold of that and it doesn't have that feature. In conclusion,

the recommended max is 30 secs when measuring above 4W laser (12W for uncoated sensor)

, and it's better if you used forced air to cool the heatsink of the sensor, set the fan to blow facing the back of the sensor.
Furthermore,

the sensors itself (the coated sensor) are not strong enough to be heated by laser with power more than 6W (15W)

(

even though the coating is strong enough for it

). All commercial thermal sensors capable of measuring high power lasers are

using metal

to detect the heat which is not a problem for it, on the other hand, this sensor is a

tiny semiconductor that is breakable by heat

.
Price when it's fully assembled:

US$75

* for Hyperion Cuprum, and

US$150

* for Hyperion Argentum.


Hyperion Cuprum can be upgraded to Hyperion Argentum, you only need to pay the rest, and you'll get activation code to unlock the limit and easy-calibration feature
These policies are made for the sake of low budget hobbyist or new hobbyist so that they can afford it, and just in case they need more than 2000 mW, they can just upgrade it without buying a new one.
FYI:
EMS Destination From Indonesia
Contact:

*Depends on the sensor and coating. Linearity tested up to 4.5W with coated sensor or 12W for uncoated sensor, above this level the reading might skew to lower value (about 10%) due to sensor's Vout saturation.
**Depends on the sensor, coating, and digital filter.
***Approx. value from the reference sensor only, not including the uncertainty of the reference sensor towards NIST.
****Using default sensor. Cheaper & slower sensor are available upon request.
Last edited: