Hi everyone. My name Andrew and I'm from Westchester, New York. I've been fascinated with lasers ever since I had weak red pointer as child. I started getting into this hobby recently and several weeks ago built a 2 watt blue and 1 watt green (shoutout to DTR and survival laser for their great customer service). I've learned so much on LPF over the past couple months and want to become a part of this awesome community. Looking forward to a lot of fun in this addictive hobby!
Some shots of my new lasers
:
Top- m140 in s4 host
Bottom- ndg7475 in survival laser ss host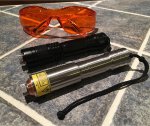 Some beam shots indoors:
These things at night are insane!