Joined

Aug 21, 2019
Messages

47
Points

8
I am selling a laser using the Mitsubishi ML501P73 diode ran at 1A, which gives me ~800mw.
The laser was built by me recently, but I am now selling it because the laser is too powerful for me, and I am too irresposible and scared I'll hurt myself or someone else.
Here are some photos of the host: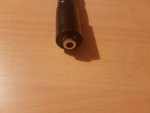 Focused to burn:
Without any lens: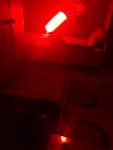 The dot when focused at ~6ft (the lens I use is a bad stock g2 lens):
If you need more photos or more info, just tell.
The laser can run on either a single 18650 batter or two cr123a or rcr123a batteries.
The beam and the dot will look a lot better with a three element lens, but it will take some power away.
The asking price is 60$.
Now I don't know if I can legally ship this to you (probably not) already built, but I might dissasemble it and sell it as a kit, in parts.
My location is Croatia, so I would prefer if you were located close to my country.
Last edited: