I am ultimately trying to control an output spectrum's FWHM via an AOTF, i.e. a tunable bandpass filter. This is not for a laser show / projector system, but posting in this section seemed like the correct place to ask a few questions.
Out of my comfort zone of knowledge, so please correct me if I am wrong on any of this:
Most AOTF's have a very narrow FWHM for a given drive frequency, so in order to select a specific
wavelength range
, say between 400nm and 435nm, or 670nm and 685nm, you would need to then modulate the RF drive frequency going to the AOTF crystal - correct? If so, what type of modulation is needed to feed the VCO? My illumination source is a 450W Osram XBO Xenon bulb in a fiber coupled research arc lamp housing.
Here is a crude block diagram of what I believe would work. I have seen another control method where instead of an arbitrary waveform generator & bias tee, a variable voltage attenuator is placed after the VCO and is controlled by an additional supply voltage. Is there a reason for the two variations?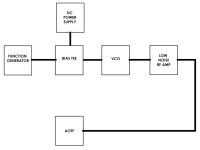 Now, if I were to route a double pass through the AOTF to mitigate walk off - will that affect the drive frequencies?