Joined

Feb 3, 2020
Messages

49
Points

18
A few weeks ago I ordered a couple NUBM44-V2's. Unfortunately, (due to user error) one of the diodes must have had some sort of particle on the lens. (An expensive lesson learned to always have some canned-air on hand when changing lenses!) This particle was instantly fused to the diode window and would not come off with lens cleaner, alcohol, or even acetone.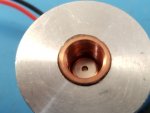 I don't own a de-canning tool, so with no other options, I decided it couldn't hurt to attempt the drill method. Never having done this before, I tried DTR's method
(from another thread) of putting the diode in the chuck of a drill and spinning the diode with a serrated edge pressed against it.
(I'm sure some of you are cringing right now!)
I'll note: the following was done as a last resort.
My choice of Laser Safety Glasses were prescription safety glasses that I have for my day job, I wouldn't recommend trying this without some form of Saftey Glasses.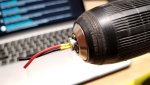 The process took about 5 minutes, (I took my time) pushing just hard enough to cut through the can, but not hard enough to have the diode fly away once separated. After getting through, I took a second to marvel at the beauty of this thing. I still cant believe the amount of power that comes out of something
so
tiny
!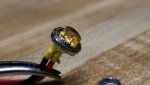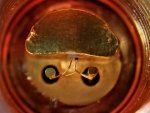 It's very difficult to tell in the first two pictures below, but the de-canned NUBM44-V2 is significantly dimmer than the one still canned, I don't yet own a LPM, but I would say the de-canned (Left) is half as bright as the canned (Right). Dont get me wrong, its still intensly bright, but it's easier to see the difference in the third picture below.
Both diodes driven by ACS5500BU Buck Driver with G-8 Lenses
Standard Exopsure: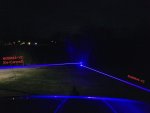 Long Exposure: (beams look purple)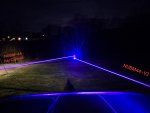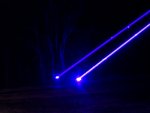 ​
I assume
this diode is going to have a much shorter life from being de-canned, but I just wanted to share my experience of de-canning this insanely powerful diode!
-Murph