Joined

Sep 4, 2018
Messages

565
Points

63
Hi again - Another in the series of builds I'm putting in Convoy S2+ hosts - This may be my last build log of these for a while as I've settled on a build method that can be replicated with only a very limited range of tools, so if I make any more lasers using this method in the S2+, I won't make new threads for them.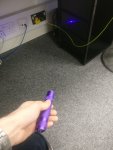 The 405nm is a special wavelength - it's hard to look at the tight dot - almost if the eye isn't capable of viewing the wavelength properly. It looks very different on camera to how it does in person! It looks nice in the box it came in
I'll keep hold of these in case I ever need to liquidate this collection.
It uses a 405nm S06J-12x diode driven at 270mA by a 17mm round Boost driver from OdicForce. Not fully happy with the noise from this driver, but it was passable for a build like this, cost effective (£8) and seems to work alright. In addition, the driver has reverse-polarity protection and a soft start feature (mine measured at around 30ms to ramp up to full output).
No outdoor beam-shots as I finished it late last night and wanted to sleep instead - but I've included a comparison of four different lasers in my current collection, from left to right; This 405nm, a 445nm Sanwu Guardian 1W,
my Green S2+ build
, and a 1W 638nm by Trinh Hong Phuoc.