Joined

Sep 4, 2018
Messages

565
Points

63
Hi all,
This is my first build-log (of my first build) - Wanted to ask a general diode question too stemming from it.
So the build; I picked the Convoy S2 Host, seen in
DrMario's S2 builds
(and probably others, but I haven't found them). I started off using the method DrMario tried - gluing the front copper half of one of DTR's 20mm modules to the pill, with a small hole drilled for the leads - while elegant, this solution really needs a round 17mm driver board and is risky with regards to the diode - things are glued together.
After killing a diode, I settled on a different method shown here - trimming the Pill and back-half of DTR's module down considerably and bonding the aluminium rear-module with the pill, then screwing the front module onto the aluminium part's threads. I don't have access to any machine tools, so did this with a hacksaw, files and a Dremel. This is shown in the other attached image.
Assembled as the original host;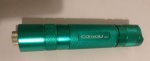 Now for the surprise & following question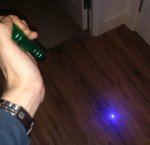 That's not what I'd expect a 520nm diode (PL520B) to look like - it's a subtly different blue to my 445nm Sanwu - there's less of a violet tinge to the "520" than the 445, and the beam appears lighter in hue. It's a single-mode diode, the beam has a nice clear round dot.
since the can of the diode has no markings one of two things can have happened and hence the question is what's happened? I've got two hypotheses at the moment.
I got sent the wrong diode - I don't mind this, as I'll reuse the module which I've assembled. I can always source an actual 520nm module again and build the same way I have with this in this host, and move this diode & driver to a blue Convoy S2 host.
Somehow in handling (ESD, heat?) I've warped, or damaged the diode to change it's wavelength? I'm pretty sure this is impossible but I'm still learning...
What do you reckon?