I was somehow able to grab a Survival Lasers 2W 445nm with multiple batteries, and glasses for ....wait for it....ONLY 85$ User stated in perfect condition. Pic attached
Think I'm going to do a little review for fun on this when it comes even though we all know Survival makes great units, I also have a
470nm Ranger
being built from Sanwu which I will 100% do a full write up and review on as I havn't seen one yet on that particular model.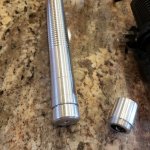 As someone who has been out of the loop since 2014, I am blown away by the pricing of lasers now. Plan on aggressively expanding my collection of wavelengths.
First post since 2014 Good to be back!