Joined

Jul 10, 2015
Messages

10,767
Points

113
I was thinking about doing a corrected 7A75 and thought I would put it in this host I had, it was going to hold a nubm44 but I would need to have used a Sanwu G2 in order to get the beam to fit within the 3XBE output lens after correction with a 6X c-lens pair and expansion by the beam expanders input lens, also the 44 likes a substantial heat sink as I like a long duty cycle and the 2 cell tube I have for this head butts up well to the center section moving heat better than the 3 cell tube, so I used a DTR G2 and a 7A75 diode driven at 4.0a via SXD so the corrected beam would work with the 3XBE, it makes a nice beam without the beam expander and quite a tight hot spot across my yard with the beam expander, here's are a few pics
Note : The host was made by Trin
I had scored some 7A75 diodes at auction and pressed one into a DTR 20mm copper module.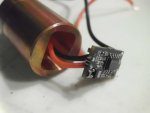 Thermal putty to avoid any shorting to the case.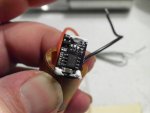 8 pin chip is thermally bonded to the case with Artic Alumina
C-lens pair aligned in host center section but not yet glued in place.
Center section during c-lens alignment, this is without the beam expander.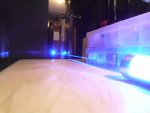 With BE
I can ( with the batteries removed ) look down the barrel and see all the lenses all the way back to the diode, it looks neat but my camera wont or I can't make it focus well enough to capture it as I see it with a strong backlight behind me.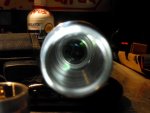 Across my backyard with the 3XBE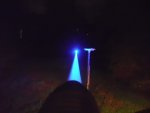 Last edited: