Joined

Feb 5, 2008
Messages

6,296
Points

83
Hiya LPF folks,
A package came yesterday and I picked it up at the post office today,
And it is a 50mW green module from O-like I was expecting!
Well it performs more than great, but pics are worth a 1000 words, and a video just over 20k...
I had a heatsink made for Aurora Cree C6 housing ,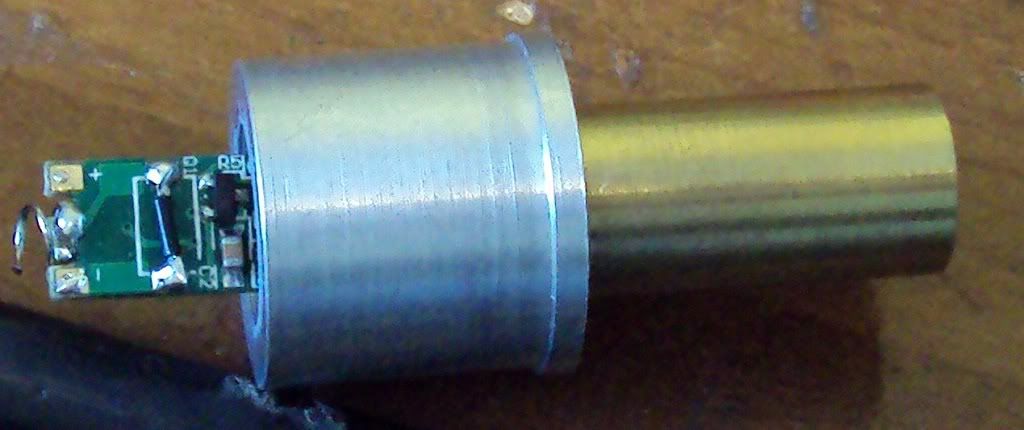 However inner diameter was between 12.5 and 13 mm so I had to improvise;
Put some Aluminum foil in multiple layers and some thermal paste
After fitting it, it was stable but it would get pushed out by the battery, so I used some Loctite on the other side
Here.
Not quite visible , just as orientation.
Well entire thing holds up exeptionally well.
I sanded the threads of Aurora's head to make eletrical conductivity: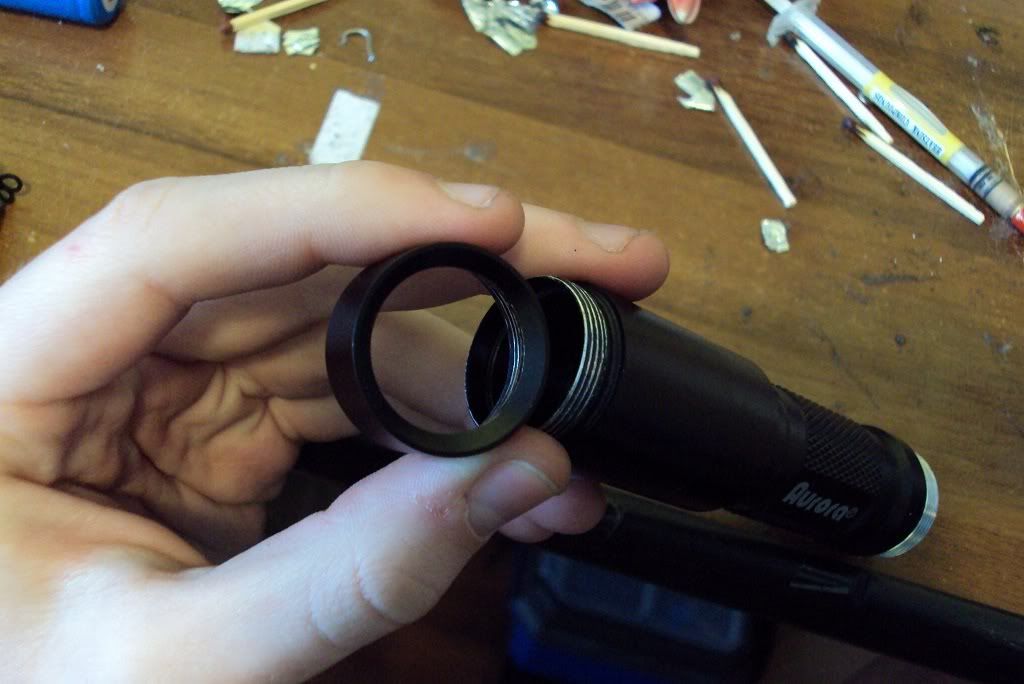 And at such power lever, this combo lasts forever...
Visibility of the beam is incredible, to my eye it is more visible than 100mW green pen (my friends green pen, I got it over the weekend to clean the lens, not compared to here).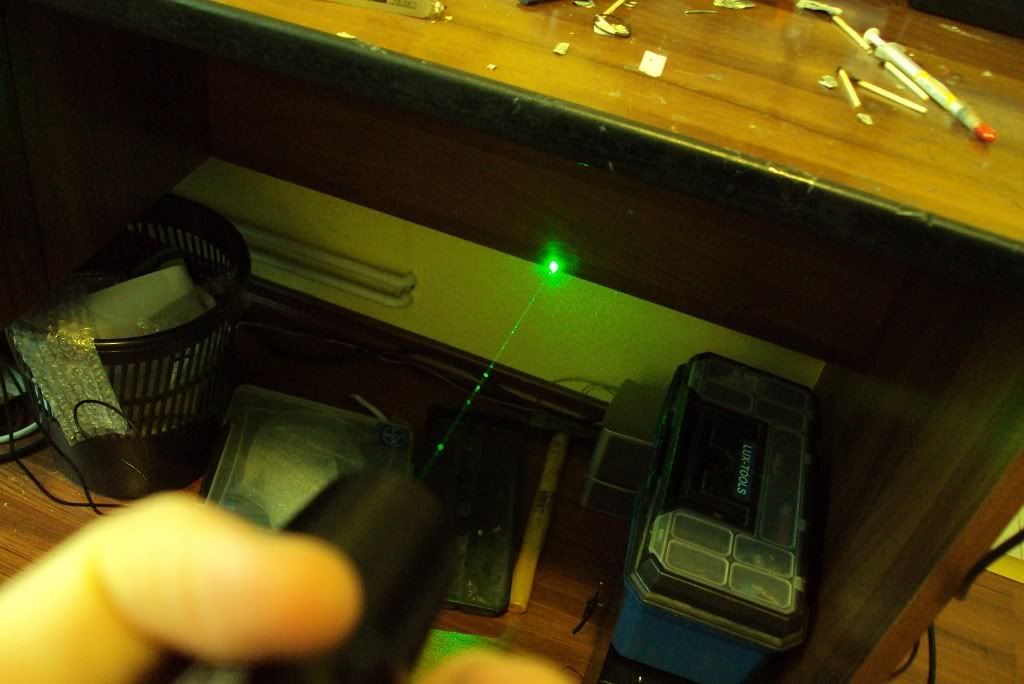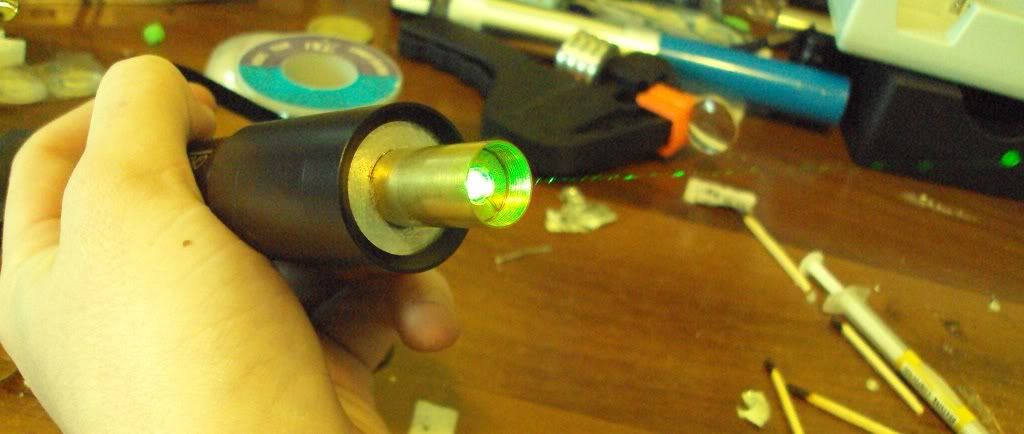 Also, incredibly enough, I measured 1.3 mRad divergence, with 1 mm thin beam at aperture exit ! I will double check that with multiple reference points, but with 1mm at aperture and 5 mm at 3 meters, that is 1.3 mRad...
Also beam is very nice, clean TEM00 , no mode hoping , no nothing,
Nicely centered on output lens, as perfect as it can be.
And yeah, I know that the module is sticking out by 2 cm.
I originally planned to desolder the PCB and lay it on the driver pill where emitter usually is, and use blank AMC board as connection board, however the driver is glued with some tough glue, I help my soldering iron tip 5 seconds on it, not a single mark remained, I cannot cut it with razor blade nor with diagonal cutters!
So I improvised , not the best piece of craftmanship but it works.
And also a video presentation of the laser,
Power measurement, and other fun stuff like shining it outside and matches burning. Yup, it can burn matches, with external lens, but it can.
Finally got vid to work guys, enjoy!
EDIT: New beamshot comparison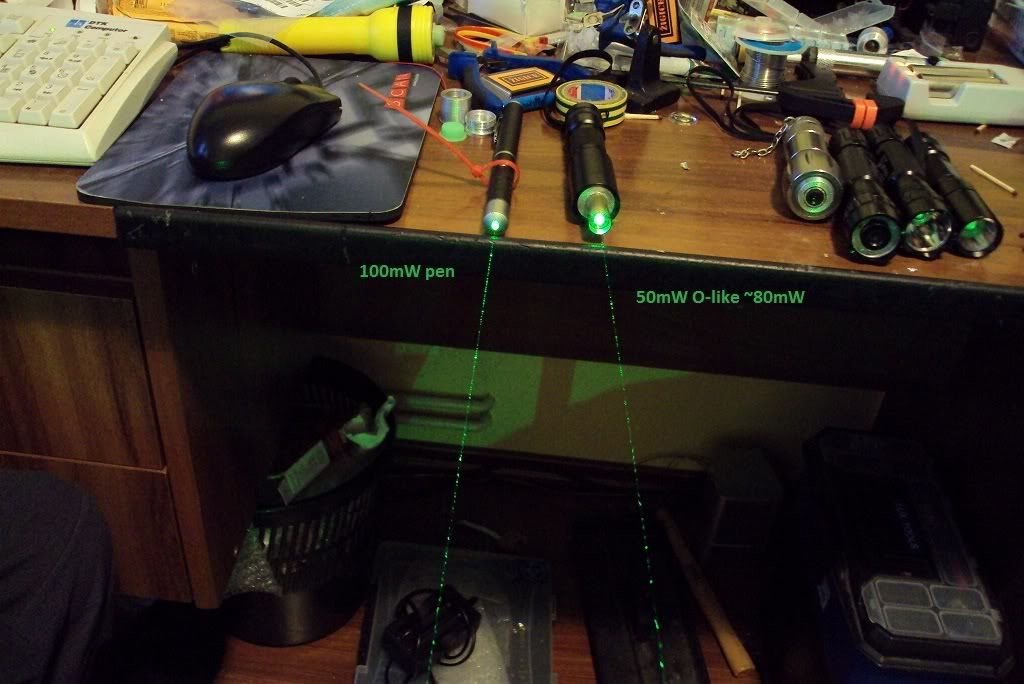 Last edited: