Joined

Feb 5, 2008
Messages

6,311
Points

83
Hello peoples of LPF.
As I recently greedily took a free Arctic chance in exchange for review, I am here posting my end of the bargain.
The laser is a free review unit - but I will not be biased in any way. You all may have seen me ranting on about Wicked and their company policies.
I assure you, I am in no way biased or affiliated with WL. Review is as honest as it can be.
OKAY! Let's start.
The laser was shipped very fast on WL's side, however Croatian customs are so difficult to deal with that I sincerely hope I will never ever have to call the Customs office Zagreb ever again. One week of pulling out my hair finally ended up with them shipping it out to me, and me paying $90 in fees for free laser. Seriously, F*ck the country where you go bankrupt from free lasers.
I have anxiously arrived home and opened the package. In the video below is the actual first opening of the laser and trying it out. Nothing is acted.
I will now explain the video in detail.
At first opening of the package, laser arrived nicely in anti-static baggie, however it was not sealed.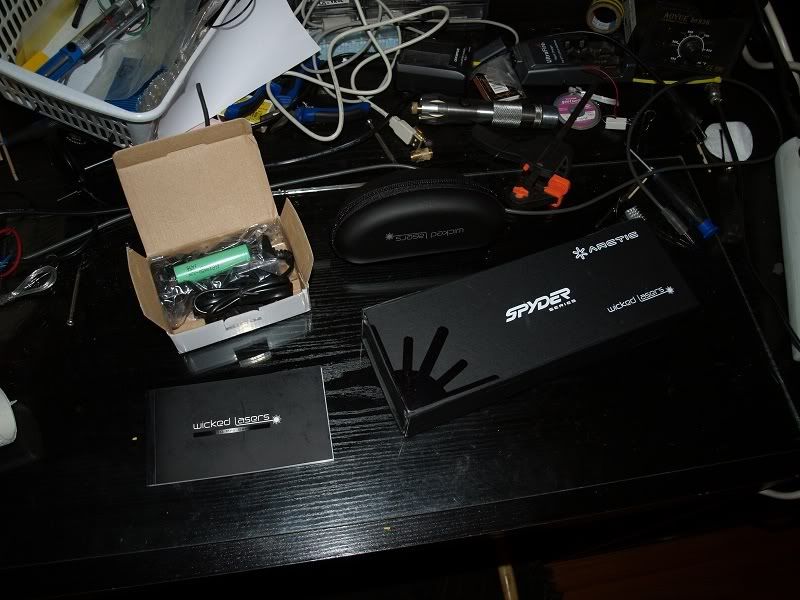 In seperate box there was a charger and battery in it. It would appear the WL does not watch carefuly where do they ship the laser to, so I ended up with a charger with USA type plug, flat prongs. It's all cool since I have my trusty TrustFire charger with me anyhow.
Wicked laser safety goggles arrived too. As you can see later in the video, they are not of much use as you can clearly see the beam of the laser through them even on LOW mode. Which is like, next-to-useless.
I have flipped in the battery that arrived with it (GREEN cell mind you, other members got pink/red Sanyo cells) that says :
Samsung SDI on it.
As you can see here, the battery has no polarity markings.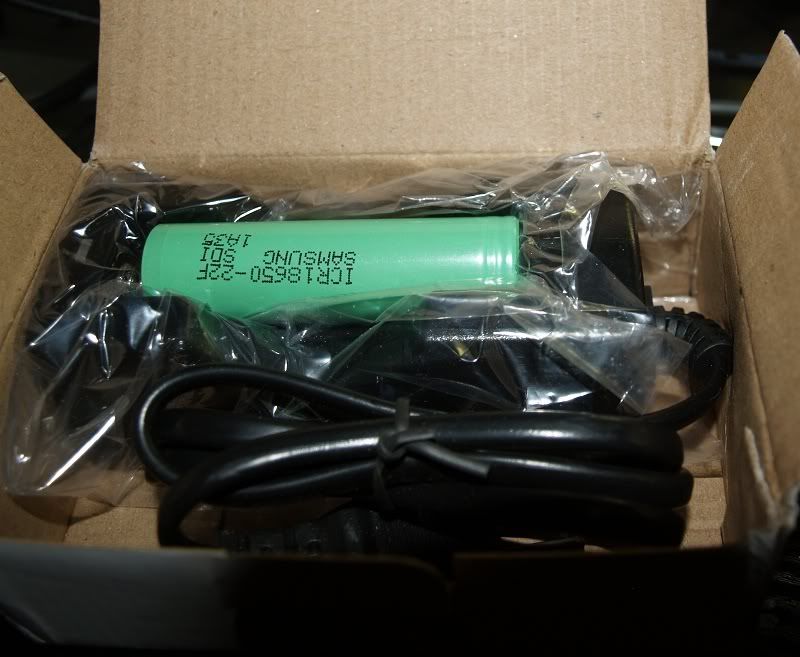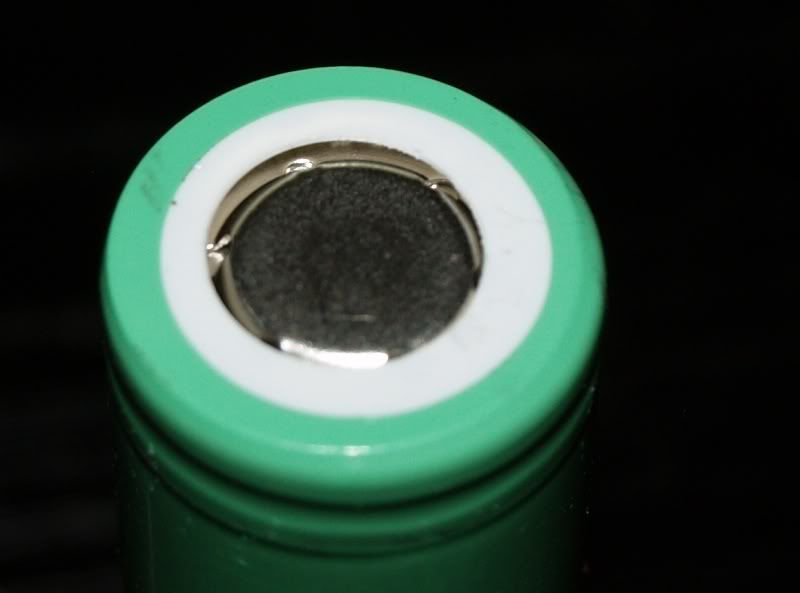 Now, flipping the battery in and trying to input the code. It's very very easy to get a hold of the code inputting. What's required of you is to do three clicks, and then two short holds.
There's no time limit, you can do 3 clicks and one hold, then do a last hold a minute later to activate the laser.
The laser after inputting the code starts in low power 6Hz pulse mode AFTER about TWO seconds from the release of last button hold. Which could surprise you, like it surprised me, thinking I've inputted the code wrong.
This is NOT GOOD as I can already see people looking into the laser aperture to wonder why the laser didn't turn ON.
When laser is emitting, clicking the SmartSwitch will change PULSE-CW modes. Short hold of the SmartSwitch will change HIGH-LOW power of the laser emission.
Now, onto the lenses attachements.
The lens that came on the laser out of the box was 100% power lens. I have mentioned that there's some sort of Anti-reflexive coating on the lens.
Problem is as follows:
When you are looking at the lens from a small sharp angle, the reflection is yellowish ...
However, as you increase the angle towards the 90° of angle ...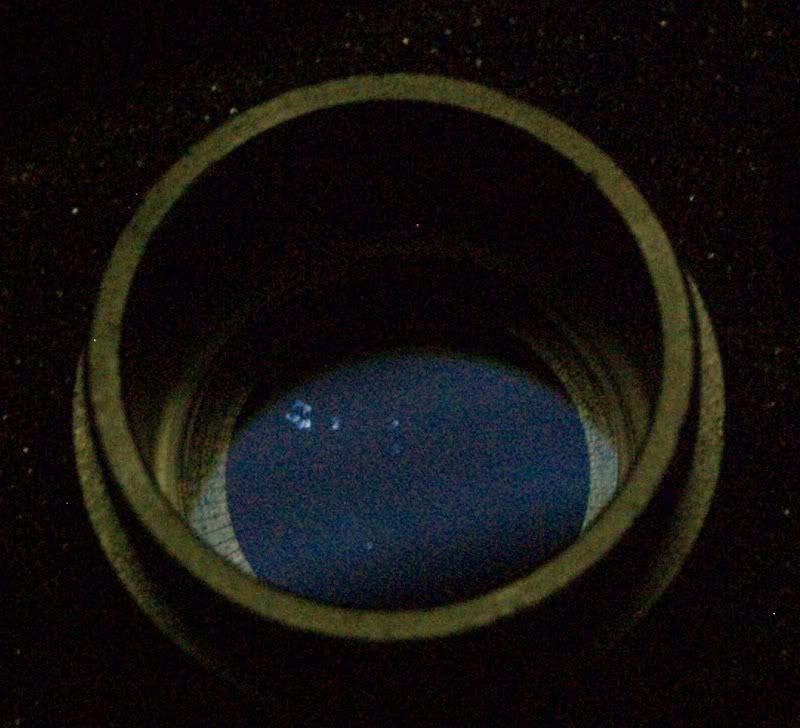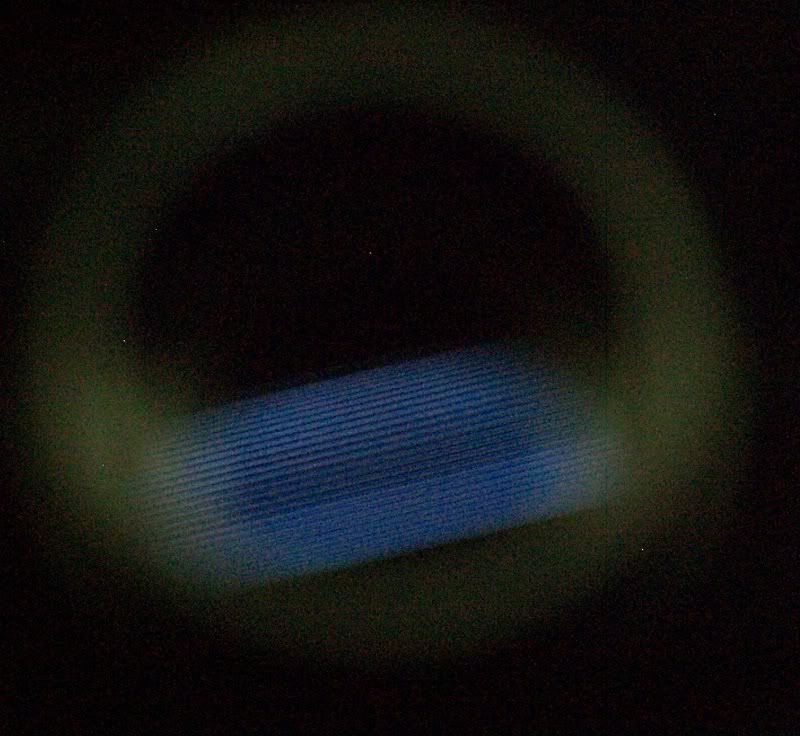 ... it shifts into blue reflection to finally at the 90° angle it's reflecting perfect blue color. Somebody overlooked something. Badly.
Also, I could not capture it but the coating on the lens have little defects but not in the path of the main beam.
Next, some lenses I've recieved with it were poorly handled :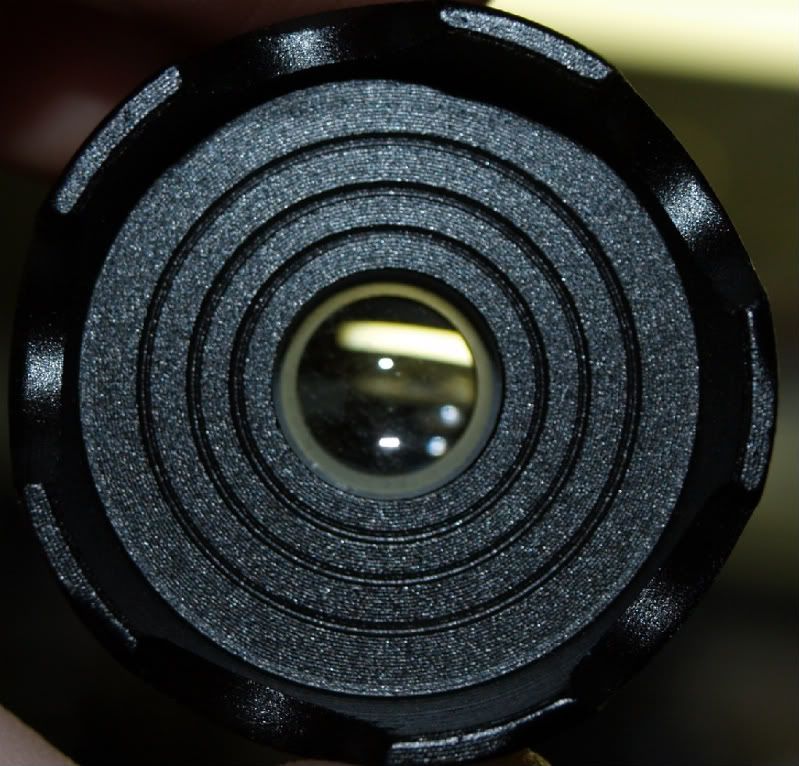 As you probably can see, there's a big fat fingerprint right in the middle of the damned lens. Luckily, I have recieved a free LensPen [MicroPro 2] and it's doing a damn good job at getting stuff out of your way.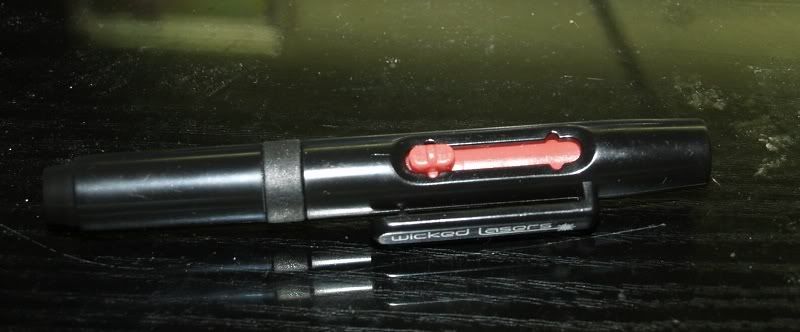 Main body of the Arctic is cosmetically more or less perfect, only defect I found so far was a little tiny dent on one of the ribs on the head of the laser: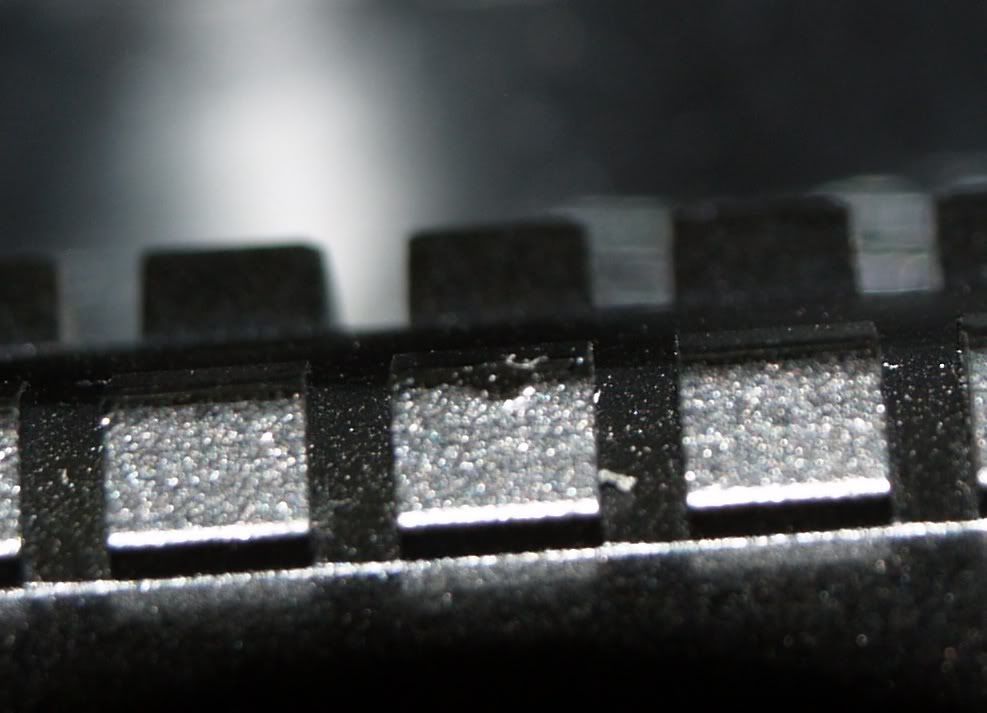 Some chinese guy somewhere at some point ran out of luck I guess.
As you probably noticed by now, this thing is damn huge. The tailcap alone occupies more volume of space than damned 18650 cell which is damn huge on it's own.
Which brings me to the tailcap.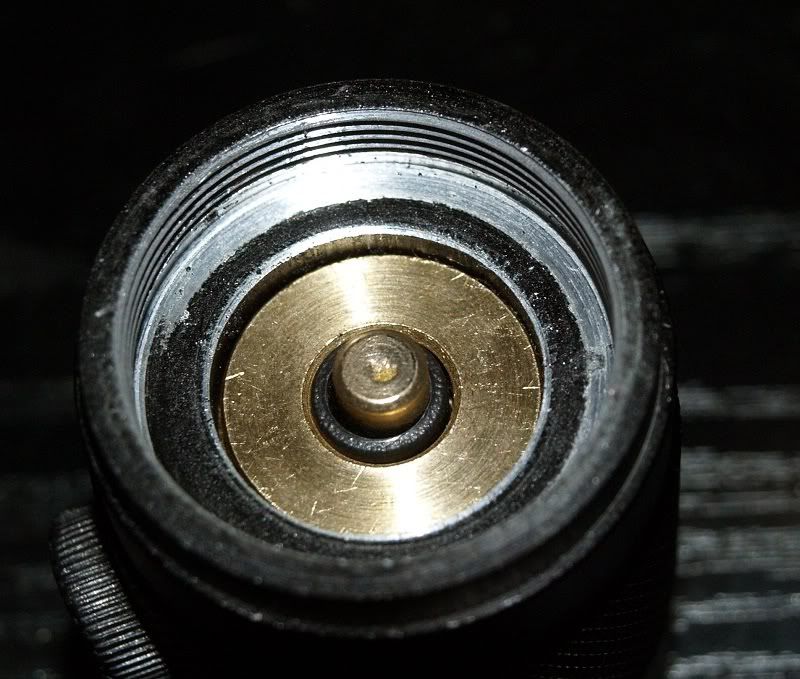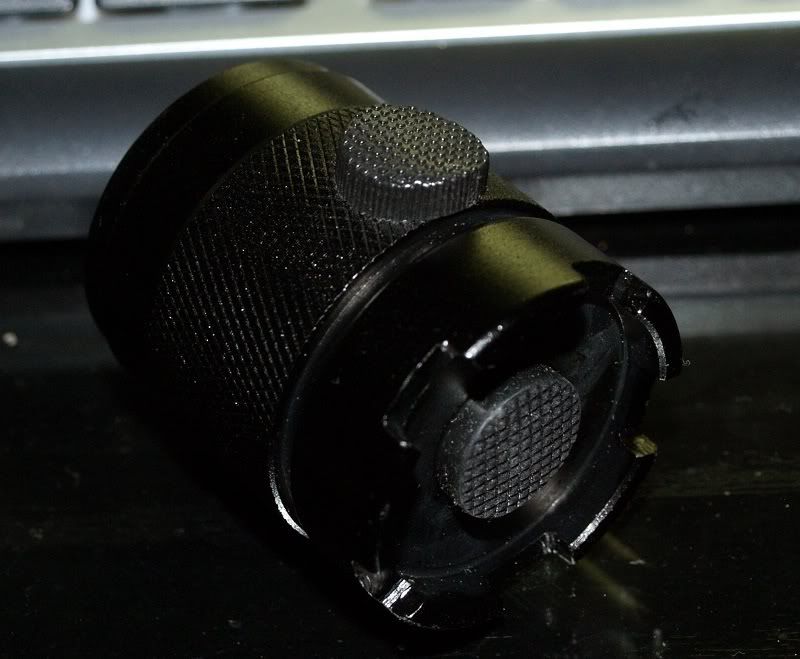 Now, these edges on the tailcap: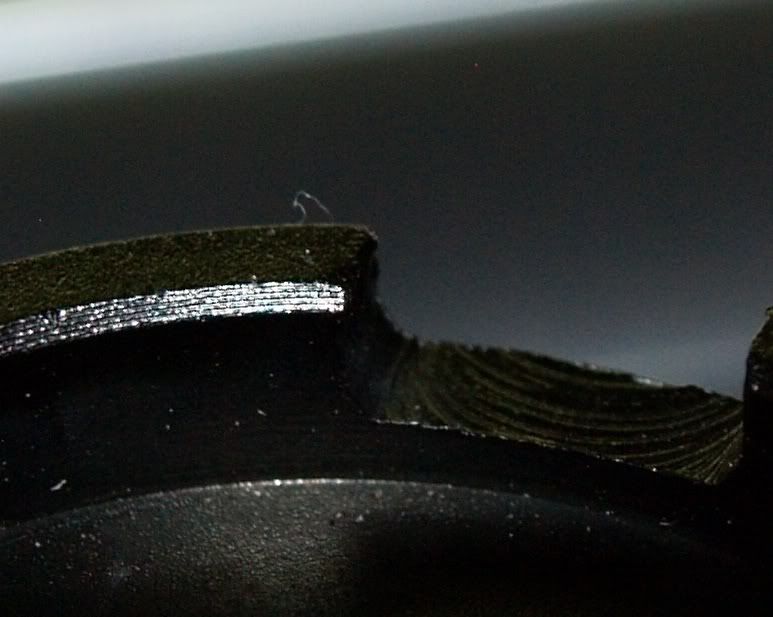 Are a little bit sharp and very roughly made... Not pleasent to swipe your finger across those.
Here are some size refferences: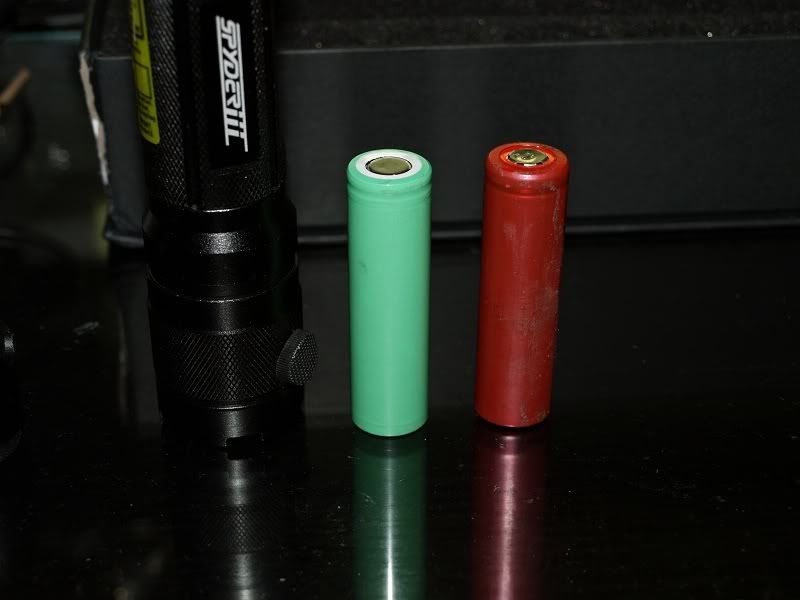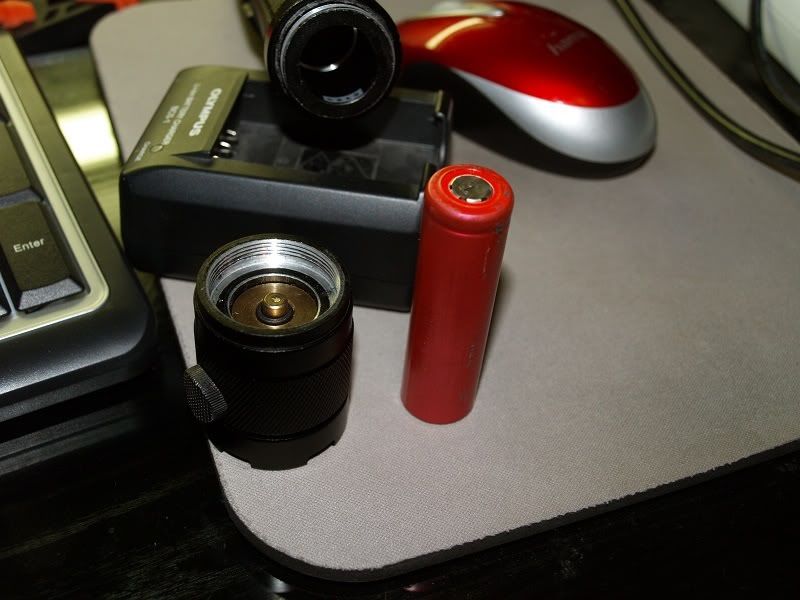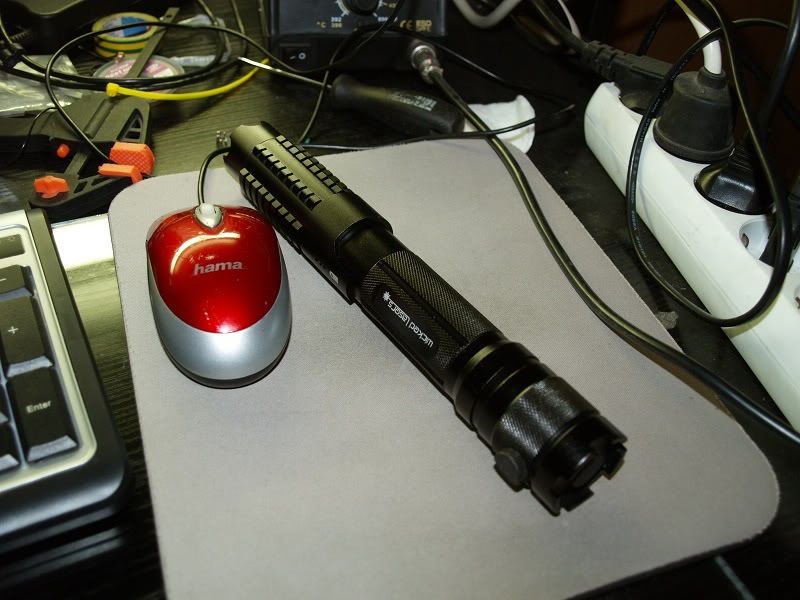 So yeah, it's massive.
Here's the battery barrel:
I can see a spring being secured by a plastic ring, unsure of it's thickness, and I con't see a possibility of a short here. The other end of the spring wire goes through a little hole in the center of plastic behind it, presumably being soldered directly on a PCB, through-hole.
Now, let's see some action shots:
This is the low CW setting :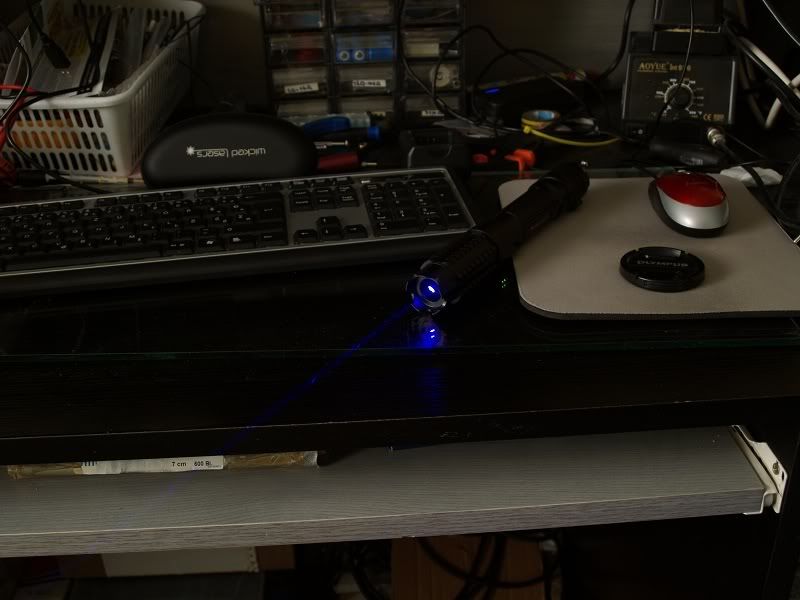 This is High power CW setting, same camera setting :
Low: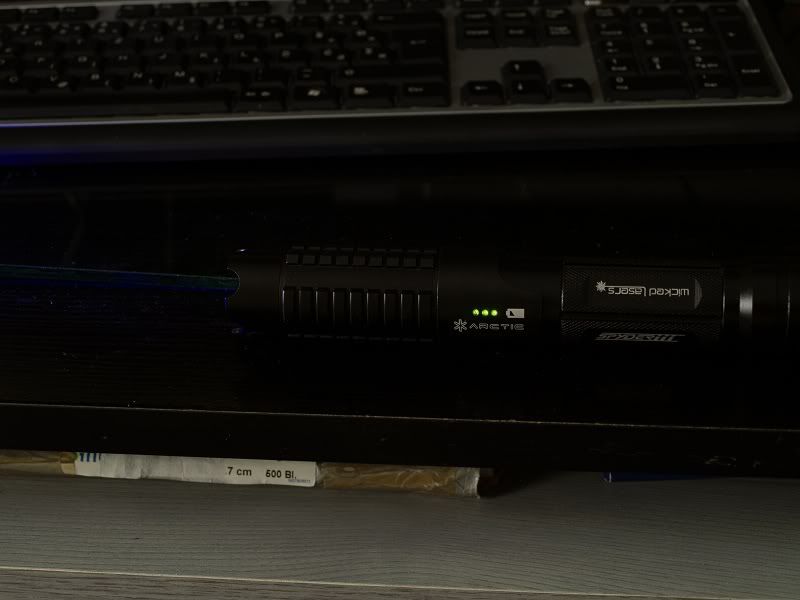 High: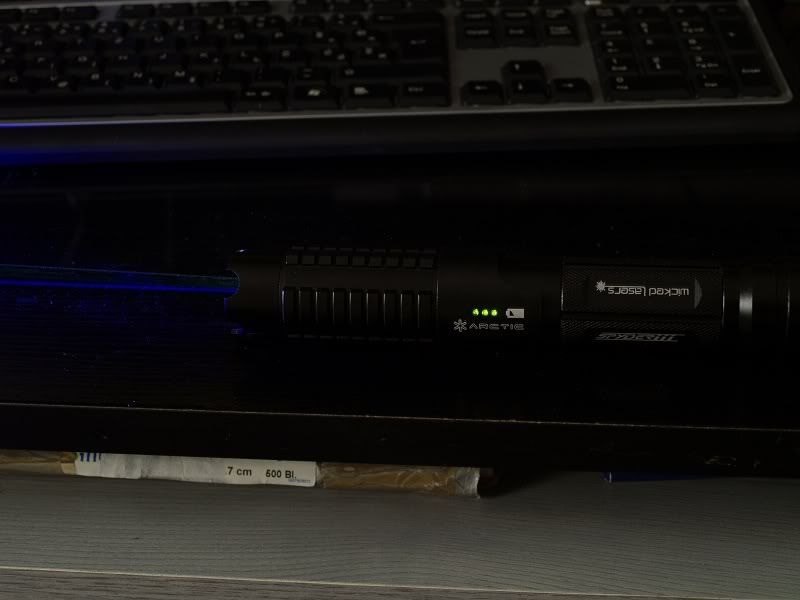 More misc picz I forgot :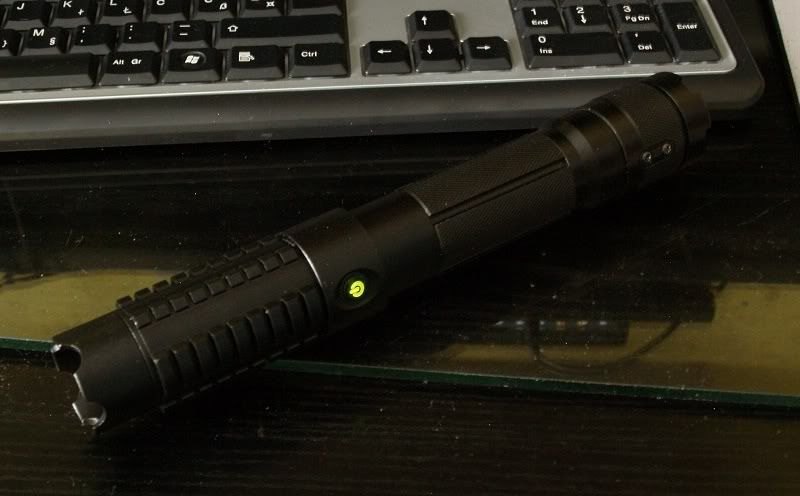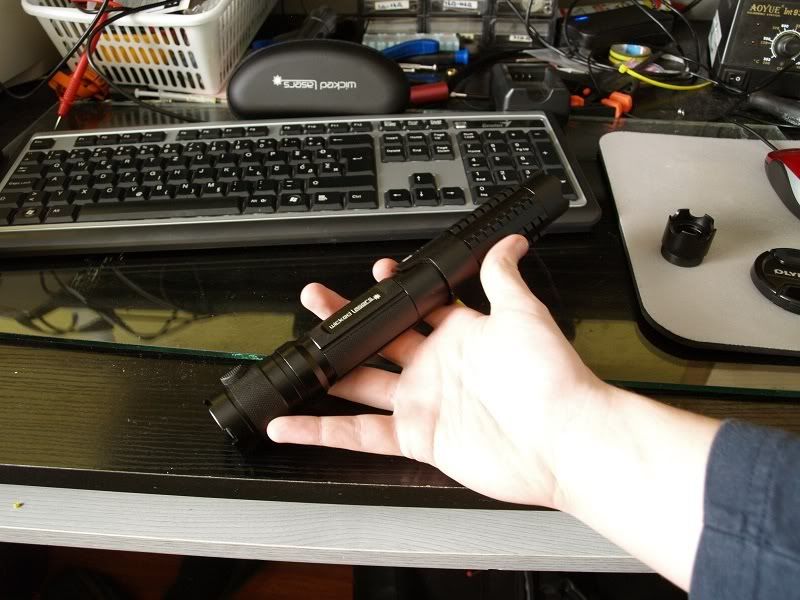 Did I mention it's ridiculously massive??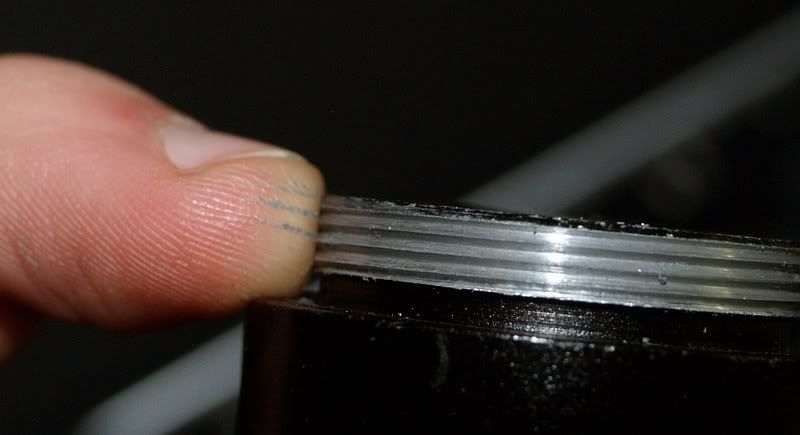 Up there, lubricant from the threads on my finger.
Thread of tailcap are very smooth and nicely machined. Which is more that I can say about headcap lens threads, very rough, but they are anodized after all.
Also, I have noticed that headcaps except 100% power lens have cut threads on inside of them, which makes no sense since you can't thread anything in it, thread that's used to hold them in beams path is the outter thread.
Okay, these are initial observations for now, post behind this one will be reserved for more detailed input after one week of using the laser and possibly a higher accuracy power measurement if I get a hold of a profesional LPM from HIMNL9.
Let's do a sum up now:
GOOD :
- very sturdy construction
- awesome host design
- 18650 battery powered, can't do without that
- SmartSwitch technology very well integrated
- Quality threadings
- No contact loss anywhere
- Interchangeable cap lens attachements
- Cap lens attachements that are included are very useable
- Battery indicator works nicely
- Tailcap switch and SmartSwitch button actions are very good
- A LOT of safety warning printed material - very nice - there are at least 5 places where issue of lasing airplanes is addressed, including the laser warning sticker on the handle of the laser


BAD:
- SmartSwitch, although good, could be a little deeper action
- There is a delay between last click and start of emission, which can suprise people!!
- Battery has no polarity markings
- Laser is case positive, untypical for non-DPSS lasers
- Charger included is strictly US type plug, need to order seperate converter or new charger (possibly a new battery too)
- Lenses handled without care, had fingerprints on them
- Pulse modes in general, usability questionable, personally I find them annoying
- 100% power cap can do without any window optic on it, this way only some losses and possibility of getting it dirty are made
- Instruction manual book included is nothing but advertisement, it has nothing to do with the laser which ever one you bought
- Some minor host machining and finish defects, but not really serious

QUESTIONABLE -
- Heatsinking - after around 1:30 minutes of operation on High, I can feel the heat on the laser's head to my hand's temperature. Now, either the laser is so well heatsinked all this mass cannot even be heated up faster, or it's so poorly heatsinked that it's only by then the heat penetrates the thermal insulation. Not sure.



Overall impression - Extremely subjective here:
-My final impression about the laser is POSITIVE for now, if I imagine I had payed a full price on it I would still very well find it very worthy of the price. However, price can be lower and power could be higher, and some care about recipients' home power outlet standards couldn't hurt also. Lenses can be handled a bit better.

In short, if a person who has seen some lasers wanted to buy that and asked me about it, I would RECCOMEND it.

-> Please note, these are intial observations and can change within a week or two of laser usage to reveal any time bombs which require users to RMA the product. In my case it's tearing it down and putting my own components inside the way I like it.



P.S. I tried taking some current measurements. It appears that the laser is drawing 370 mA at Low constant mode setting. I switched to higher power but connection with my DMM probes cut off for split second resulting the laser to go into Standby-for-code mode. Will take current measurements later too.
Last edited: