Joined

May 27, 2013
Messages

1,152
Points

63
I made a pen laser circa 2012-2013 powered by AAAs or 10440 cell and forgot about it in my pant pocket a while back and it took a bath with the laundry. Forgot about it for a few years then saw it dismantled with the diode and driver which survived the bath, waiting to be built into a new laser. I had time because of the lockdown so here we are making the rebirth
The host is made from a solid block of acrylic.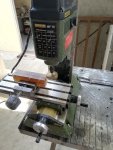 I machined the pockets where the internals would go.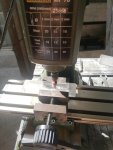 I used a high drain 160mAh lipo (used for tiny drones) a 4054 based USB charger pcb I designed and made myself and the scavenged PL450B assembly with boost driver.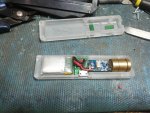 The finished package ended up approximately 3.5" long, 0.75" wide and about 0.5" thick.
USB compatible. I set the charging current to 100mA to not strain the tiny lipo too much, takes less than 2 hours to fully charge from empty.
Some clearer shot from top.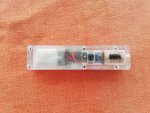 The USB port was placed on the side. I may need to use a rubber cover on it if it collects dirt.
From the bottom side, you can see the driver and USB charging boards.
I used a plastic lens but it works well enough for the power and divergence is pretty good.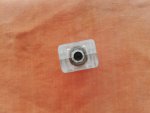 I also made this one a couple weeks back which inspired me to do the same thing with the blue laser too. This one used a 5mW red laser with X and Y set screws to adjust aim. It is held on to the bb gun using four well placed neo magnets and still retains good accuracy and precision even when removed and reattached again.