Joined

Apr 27, 2019
Messages

242
Points

43
I received the package In exactly one month, Relatively fast considering the whole situation in the US. This right here ladies and gentlemen is my dream build! Ever since I saw the red guardian on Sanwus site with the 490nm option I knew I wanted one so I commissioned Rich to make a copper pen in that wavelength. First of all,
Here are some pictures: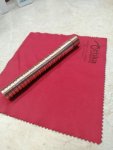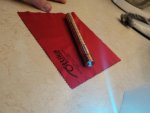 The color is exactly what I wanted for this build at around 490nm, and the quality of the machining is outstanding. As for the driver he is using an X Boost driver with a 1-sec soft start that I have fallen in love with! The host itself feels heavy and smooth with no sharp edges and the rear button is nice and clicky with long travel time. For the lens, he is using a pair of ar coated 3 element glass lens which do an amazing job of getting rid of the box reflection. The laser was well packed with lots of layers of bubble wrap. It measures at 16mm OD and a length of 130mm and a weight of 110gr(118 with an efest 10440 IMR battery)
TLDR:
Positives:
The amazing quality of machining
Well priced (110$ + shipping)
Solid high-grade copper
Quality driver
Well packed
Included focus ring
The lens was clean
Cons:
Non I am extremely satisfied with the laser
Feedback for Rich: The only thing I did not really like was the lens spring, Personally I don't use lens springs because the lens is still kind of wobbly with them. In all of my builds, I use Teflon tape (3-4 layers) around the lens. It works much better and eliminates any possible back reflections from the lens spring.
Product Rating: 10 Out of 10. Extremely satisfied.
Last edited: