I have been experimenting with different setups to reduce divergence on multimode diodes. One idea was to just use 1 cylindrical lens for each axis (rotated 90 degrees) and eliminate the aspheric collimation lens completely. Doing this allows you to use an extremely long focal length cylindrical lens for the slow axis (i.e. the problem axis for MM diodes). This is simpler than the "traditional" way of improving divergence; collimating with a short FL asphere, then expanding with a concave/convex cylindrical lens pair that operate on the SAME axis.
I machined up a setup that allows me to swap optical elements and diodes, and compare back to back. I plan to use this to test out some ideas before implementing in my builds. It consists of a track with T-nuts, to which I bolt L-brackets that I can swap different optical elements or diodes, and can move around as needed, and rotate around Z and Y axes. This is going to come in handy when I test different diodes to fine-tune optical setup for my eventual RGB build:
For this experiment I used a Ushio 1.2W red diode. This has very bad divergence, the worst I have ever used, similar to the high power 445. Using the G8 lens, this gives a spot length of 4.75" at 36 feet.
G8 setup & spot size at 36':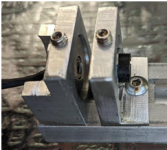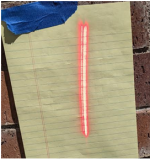 For the cylindrical setup I used a 9.7mm focal length cylindrical lens for the fast axis (adjacent to diode), and a long 25mm focal length lens for the slow axis. Doing this I was able to get a spot size of 0.930" at 36'. That is over 5x improvement vs the G8. I expect proportionately more improvement could be had with replacing the 25mm FL lens with a 30 or 40mm..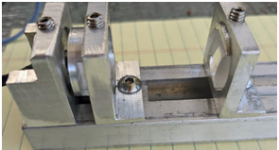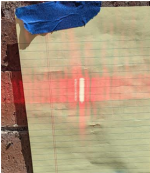 The width of the spot is driven by the FL of the "fast axis" lens, which is 9.7mm in this case. That is somewhat higher than the G8 which is why it is about twice as thick. The Height of the spot is driven by the FL of the Slow axis lens, which is 25mm.
For power I had measured 860mw for the G8 and 850mw with the cylindrical setup. The tradoffs here is a larger beam at aperture, and more "noise" around the spot (probably due to some spherical aberration). I think this setup would be pretty awesome on a high-power 445 where the improvement in divergence is much needed, and IMO a slightly fat beam at that power is not a problem. The noise can be cleaned up with an aperture window. The major advantage with this type of approach is you can choose any focal length lens for either axis, independently. It is also much simpler and less losses than you would get with the 3 lens approach (1 asphere, then 2 cylindrical to expand PCV/PCX).
Cool thing about this is I can machine this all into a host with Inside diameter of 0.75"; too many projects not enough time.