Joined

Mar 17, 2006
Messages

4,503
Points

113
I finally found the motivation to unpack everything, line em up and get some photos. Here is my entire collection of noteworthy lasers. In addition to these, I have about $200 worth of random ebay/DX/Kaidomain lasers. I probably won't be posting them as I'm sure we all have tons of those things anyway:crackup:
From top to bottom
Sanwu Spiker Series 3W 445nm
1W 520nm Sanwu Spiker series with beam expander

638nm Sanwu Spiker series(860mw average)

O-like 445nm 800mw
5.05W 465nm build by AlienLaser

639nm Sanwu Silver Series Tribeam(1700mw average/1800mwpeak)

Ebay 450nm THOR M II laser(1600mw average/1700 mw peak)


589nm Dragon Lasers Spartan 50(51mw average/70mw peak)
Jetlasers 462nm equality series 1.4W

300mw 532nm RPL-300(150 mw average/180ish peak)

2W O-like 450nm(2.2W average/2.25W peak)

500mw O-like 638nm pointer


685nm box pointer with laserlands 15mw module.

8mw
561nm

project box build(8-9mw average 10 mw peak)


450mw laserglow Hercules with X10DR beam expander

1.4W Jetlasers PL-E Pro 462nm(average 1490mw)

3.5W Jetlasers PL-E Pro 465nm

1W 650nm Jetlasers PL-E Pro(1038mw average 1087mw peak)

All of the lasers in the boxes:

50mw

515nm challenger(85mw average)
700mw 405nm Sanwu Challenger(782mw peak 730ish mw average)
Lazerer 520nm and 638nm mini-lasers.

593.5nm 2-5mw CNI penlaser(2-3mw average)
berlinlasers 5-30mw 515nm penlaser
berlinlasers 75mw 450nm penlaser
laserbtb 5mw 405nm penlaser
Laserglow Hydra 3-4mw
5mw laserlands 450nm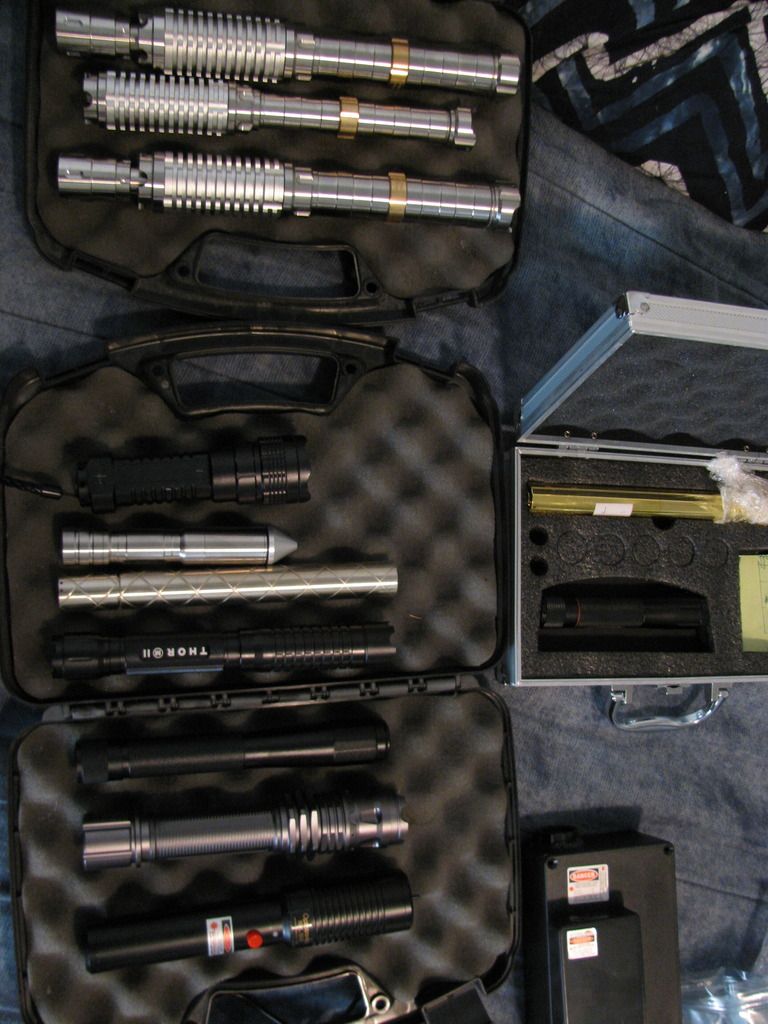 Last edited: