Joined

Oct 3, 2015
Messages

82
Points

8
Question for you guys
what would happen if you put the battery in any laser the incorrect way round?
as none say inside the cap or have got a + or - on end caps?
at least the Sanwu site tells you .........
Battery orientation
1 x 18650 or 1 x 18350 lithium-ion battery
Red & Violet: positive end goes first / Green: negative end goes first
But what would happen if you did reverse it....................
as i bought a green and a violet and neither say on them which is the green laser or which one is the violet.......
[ yes im going to put a sticker on one so i know which ones which....]
Also 2cnd question
is it because of customs that not all [ if any] have the DANGER sticker on? and the class?
wold it help if you looked inside -------> like , if you look inside one of the lasers the spring is at the bottom near diode , does that mean its + or - to put in 1st? it my help if you forgot what laser color you have .
Thanks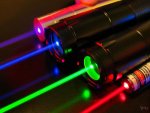 Last edited: