Joined

Dec 14, 2020
Messages

235
Points

43
Comparing different heatsink configurations to show best effective heat dissipation.
It is interesting to note that negligible power was lost after de-soldering the diode from the block and re-soldering it at 240°c.
All tests were performed at 4.50A with a constant current power supply.
The cap lens was not removed from the diode.
It is clear from these tests that the back of the diode is the most important part to heatsink.
According to the graph, this G2 lens had a 96.6% efficiency.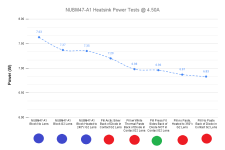 Last edited: