New member
LPF Site Supporter
Joined

Sep 4, 2020
Messages

13
Points

1
So I bought this..
I over tightened my G8 lens crushed the lens..
Like a noob..
I'm bummed..
slightly lol. I understand and I'm one with learning and making mistakes and moving forward and working through things.
So I ordered a bunch of different and new lens just to find out that not only did I crush the lens I also crushed the diode. And it no longer works.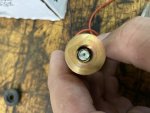 Which brings me to the reason of my post.. Can I just order the diode only and replace it in my DTR heat sink. Or is it hard to take apart that set up? Looking for guidance, advice, and solutions. Thank you to LPF community in advance from happy and grateful member.. Michael.