Joined

Jan 17, 2014
Messages

554
Points

28
Hi Guys,
just a little thread about my second build . I see a lot of new people like myself on these forums asking questions about building lasers and thinking that it is not possible for them. Again I tell you, if I can do it , anyone can! You need very limited soldering skills, some solder, a soldering iron, some small heat shrink and Bobs your uncle. My first build was the Newfie Rednecker
http://laserpointerforums.com/f44/my-first-build-newfie-rednecker-88858.html
which was a little more in depth build thread than this one will be. This time however , I have made my first attempt at beam shots so I am slowly shaking off the noobiness! LOL Without further ado , I present to you, my 3 laser RGB Set , named The Legion OF Noob !
Ok I started off with three Mrcrouse 501b kits, red, blue and black. I also got the optional Knurled knobs for maximum effect. No Noob should leave home without them. I find these 501b kits are of superior quality and are plug and burn. What that means is that you just have to solder red to red and black to black with a module with driver that I get from DTR. Almost completely noob proof but I have fooled them up in the past, just see my newfie rednecker thread for that. LOL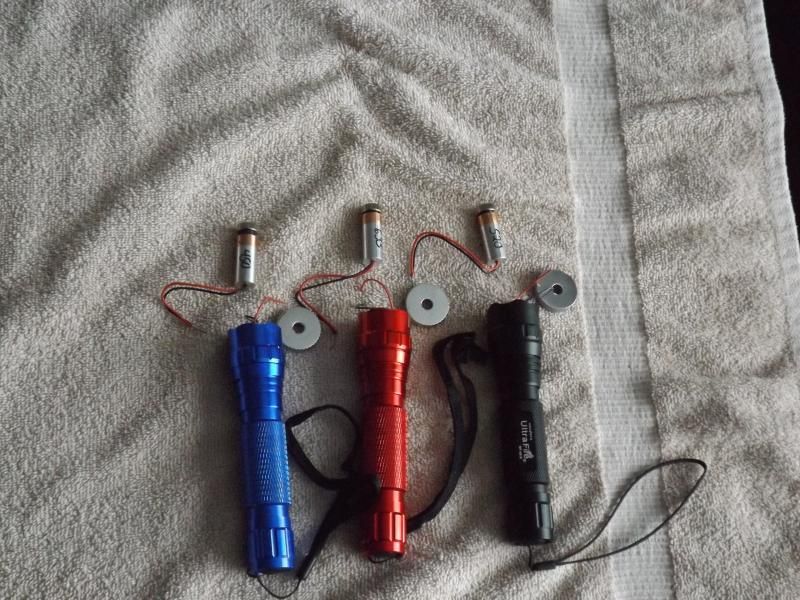 Next as you can see in the picture, I used DTR's RGB kit which included diodes and drivers complete with leads. As I already stated all you do is solder red to red and black to black and bam you have working laser. The Dtr bundle comes with one 120mW 3.8mm HL63603TG diode, one 50mW 3.8mm PL520 diode and one 120mW 3.8mm PL450B diode. RGB Diode Bundle In Copper Module W/Driver & Glass Lenses Microboost for green & blue, Flexdrive for red All work on 3-5.5V. THis is the kit I took. After all the soldering was done here's the finished product, THe Legion Of Noob !
And now for my first ever beam shots!!!!!!!!!!!!!!!!!!!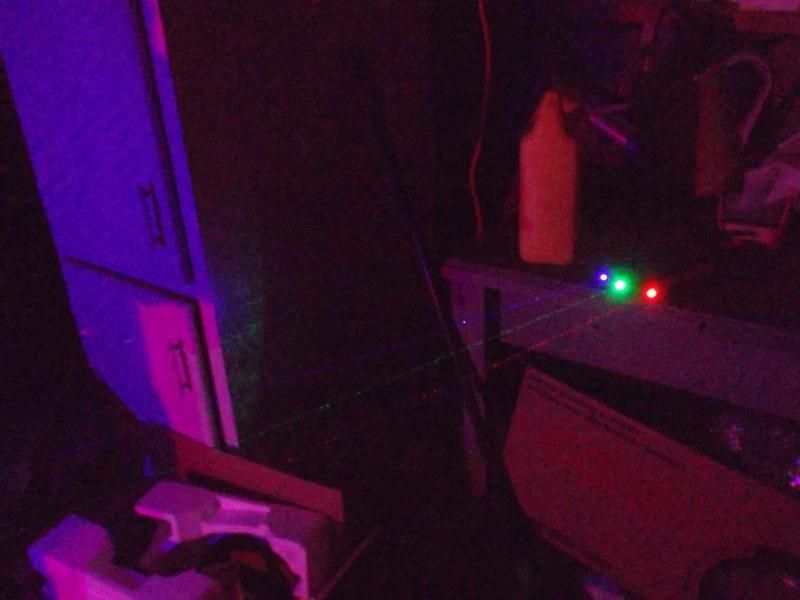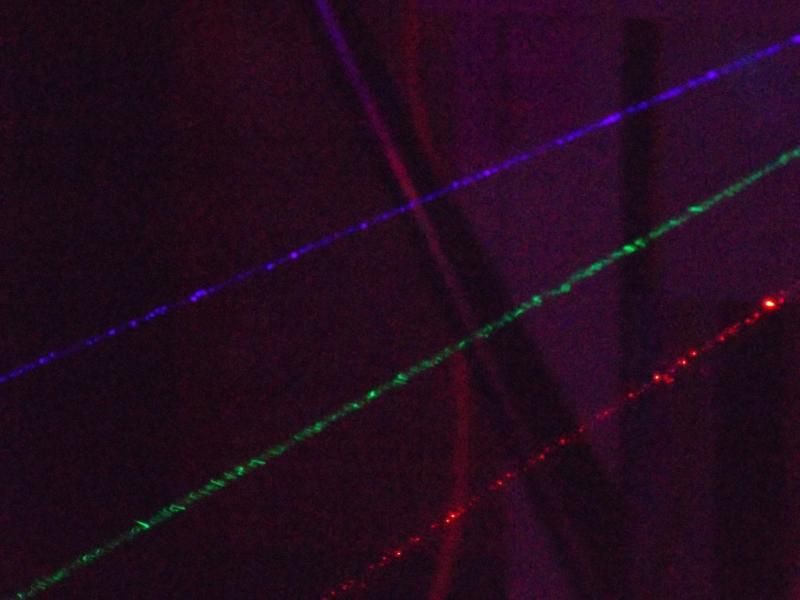 That last one is my favorite!!!
One last thing, here is a picture of all my babies in their case.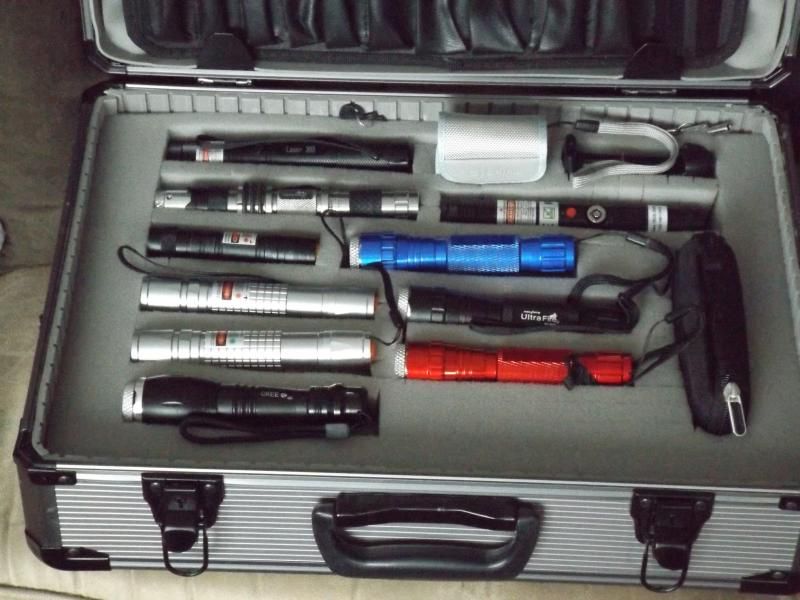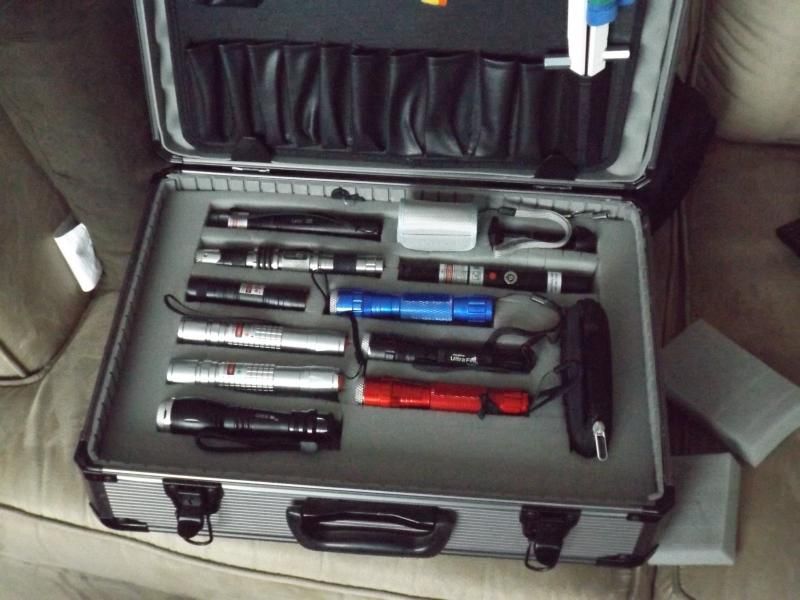 I guess it will soon be time to update my signature! I have not had the time to use the LPM on them and see how powerful they are but that was not the reason I made these. I am truly becoming a little of a spectrum collector and I really love the different colors. If power is what you are after, you did indeed come to the wrong thread. However my third and fourth build will be a noobs guide to building a 445nm 3watt mace of doom and a 405nm 1w c-11 side clicky host , I may also use the zero laser chunk for the 405 but still have not made up my mind yet.
In closing I just got to say this is getting a little easier every time I build. After I finish the 405 and 445 builds I think I will have to do the noobs guide to pressing diodes or something along that line! lol
Thanks to all of you for reading and all your help. Special thanks to Mrcrouse, DTR, Flamingpyro , Tmack and so many others that have helped this noob evolve.