Joined

Sep 28, 2019
Messages

10
Points

3
Here is my first purchase of a powerful laser
It's a 5.5W 450 nanometer, it's a module.
I arrive tomorrow, I bought it on Amazon.it
And I paid € 129.90 for $ 142.12 including green protective glasses
Do you think I paid a fair price or did I pay too much?
Technical details
Laser wavelength: 450nm (blue)
Output power: 5500 mW (5.5 W)
Driving mode: constant current unit of the external ACC
Power supply voltage: 12VDC
AC adapter input voltage: 100-240V
Lens material: optical glass with coating
Clear shape: point, adjustable focus
Modulation: TTL
PWM control: support
Other function: weak light positioning
Dimensions: 33 * 33 * 100 mm
Net laser weight: 170 g
Spot shape: adjustable tip focusing
power consumption: 12V 1A
Drive mode: constant current ACC external
Heat dissipation method: forced / active air cooling
Interface parameter: XH2.54-3Pin / Support PWM
The user must read:
Reflections damage the laser when the metal of the mirror is etched.
The power of the laser module is relatively large, for industrial use only, to prohibit the exposure of the eye, otherwise it will cause permanent blindness, the consequences at your own risk.
Do not use in flammable and gaseous atmospheres to avoid fire and explosion.
Prohibit children from exposure to this laser product.
Do not open the module to avoid damage.
Some Screenshots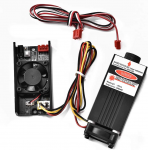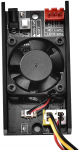 I can't wait to prove its power and brilliance, I'm really happy, then I'll post photos of the beam and the whole