Hello Peers,
today I want to review a small laser module that I ordered from laserlands.net.
LINK:
https://www.laserlands.net/diode-laser-module/600nm-640nm-orange-red-laser-module/635dot/3350-638d-1919.html
Here are some details on the unit:
- LD: Sharp 185mW single mode
- ncluded is the module with adjustable focus, a small fan, a TTL driver (12V DC input) -> Driver current was adjusted by laserlands
- Shipping to Germany took roughly 4 weeks and was free. It was packaged secure and nicely with lots of foam.
- Price: ONLY 20 USD!
I got this laser, because of its ridiculous cheap price and since I always wanted a SM 638nm laser. Unfortunately pointers with this diode have become super rare, because people go for the higher power LDs with the most aweful beam quality.


I am very satisfied with this laser, although it is much less handy than a pointer.

PROS:

- Price (How is this even possible?
)
- Solid build quality
- Very thin beam for a diode
- Single glass lens!
- Awesome Beam Divergence (~0,5 mRad)

CONS:
- Driver was different than advertised (not a huge drawback imo)
- Beam has some scattered light on the sideline
- Focus ring is a little lose (can be fixed easily)

I have not yet tested the TTL function yet, but will do that together with a LPM testing soon.
There are two strange things, I don't fully understand with this laser.
1. How can the voltage be set on this driver?
2. I only measured 130 mA of current draw (without the fan), yet this laser according to the data sheet provided by Sharp states a working current of 215 mA. Can somebody explain how that could be? (Voltage on the LD output measured ~ 3,2 V)

I also bought a 510 nm 5 mW pointer and a 638 nm 5 mW from them through Aliexpress. These are also pretty nice


I hope you like my first little review and feel free to ask me anything!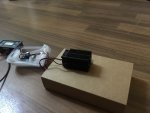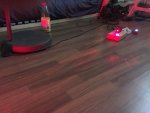 PS: The PWM controller is not included. but can be bought from Techhood on ebay
Cheers
Philipp