My 473nm PL-E pro came in today, and as usual Jetlasers don't fail to impress.
-Perfect build quality and stylish looks: Everything fits together and moves smoothly, the focusing mechanism works well and the laser seems professionally done in all aspects.
-Good beam specs: After warming up the laser operates with a seemingly perfect TEM00 beam. There's some mode hopping and weird stuff it does while cold, but that goes away after the laser is warmed up.
-Super Overspec: A less reputable laser seller could have easily claimed this was a 150+ or even 200+ mw laser. After it warms up this is a 200mw average laser, and it just keeps going up. I haven't done any runs over 2ish minutes because I like to respect the duty cycle, but the crystals in this clearly like higher temps. My first run of 2 minutes got a relatively pedestrian, but still overspec 150mw average. I then waited 3 mins and did a second run, followed by a third run and WOW! Average of 200ish mw and a steady upward trend in power with no sign of falling off.
-Value: If you're in the market for a handheld 473nm I'll shamelessly say that you CANNOT do better than Jetlasers. For the price you won't find anything better on the net.
-Usability: Great all around. Takes either one 26650 cell or an 18650 with the included adapter. The LED indicators are a nice touch and change colors depending on what mode of operation your in. All 3 are red when the laser is off, fade to blue in momentary on mode, and go green in constant on mode. Comes with a key to turn the tailcap on and off in case you have children around the house.
-Overall Rating: 10/10. Awesome in all aspects, overspec and I have nothing to complain about. No regrets whatsoever so far.
Tonight I'll try to get some outside beamshots alongside my 532nm PL-E. Until then you'll all need to be amused by these pics and power readings.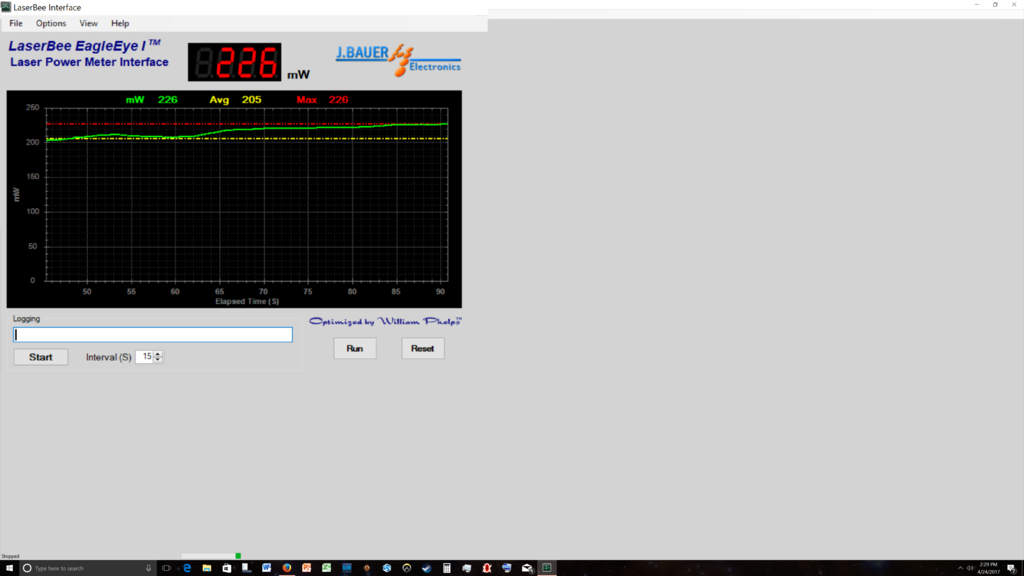 Last edited: