Joined

Nov 11, 2018
Messages

10
Points

3
Hellooooooo all you pointers of lasers!
phosphoressential here, hailing from the crisp morning dew of the Pacific Northwest.
I'm an opto-mechanical engineer for a company in the semiconductor industry. My small satellite office specializes in optics and lasers. In the back lab we have a van sized tool that uses four 2 joule lasers to melt very thin layers of silicon. Peak tool optical power ~1.2GW, yes thats billion with a b. Here's a photo i took of one of the four lasers focused down to ionize the air as a party trick. You can see the plasma ball in the center of the shot.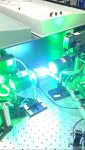 I'm lucky to work with some really cool tools but to be honest my background in optics is pretty limited. Always learning!
At home I have some laser projectors (many consumer, and one dual axis RGB), some dime-store pointers, and I'm working on a rainbow of serious pointers. Waiting on some new dimmable Sanwu sabers from black friday
once the last two come, the spread will be:
405nm - 1.6W Sanwu dimmable
450nm - 5W Thor+ series unbranded
470nm - 5W Sanwu dimmable
492nm - 100mw Sanwu pocket series
520nm - 1.2W Sanwu dimmable
638nm - 1.5W Sanwu dimmable G84
Really looking forward to the Dragon Lasers
589 nm
.
I have a 3D printer and am interested in creating 3D art with gears, electronics, light, lasers, and optical illusions. I love to design in CAD space.
Stay safe. Have fun. Let's all have a good discussion out there on the field. This post was made possible by the relentless sarcasm of a one
hakzaw1
Cheers mate!