Joined

May 15, 2012
Messages

315
Points

28
I got f i r e d. Due to COVID. The commercial aerospace industry isn't doing too good right now. I have this big old laser I made last year that's just sitting there and I super cannot afford to pay on my car next month.
It maxes out my LPM at 3700mW. Going off the power curve, it should be about 4W. I don't quite remember what driver is inside unless I pulled it apart. I think it's a Super X-Drive. I can't find any email documentation on the driver unfortunately, but I remember I got it from a reliable source and not ebay. Copper module and heatsink, aluminum driver pill. The duty cycle is really good. I used Arctic MX-4 for thermal interfaces, JB Weld to attach the driver to the pill. It takes 2x 18650's and of course you're going to want to use some beefy brand-name batteries. Keep out of reach of children.
I'm asking $255US, free shipping to the CONUS, $10 shipping outside the CONUS. If you have any questions, plz ask.
Thank.,
-Nick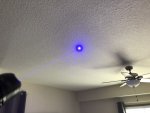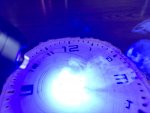 Last edited: