Joined

Nov 2, 2015
Messages

65
Points

0
Hello. I have collected lasers for a couple years now but unfortunately I need to get rid of a couple of them before I move. I have had great experiences with both of these that I am selling and the will certainly not disappoint. I can only ship to within the continental united states. PAYPAL ACCEPTED.
FIRST OFF: JETlasers PL-E Pro 465nm at 3.5W with 10x Beam Expander:
This is my most powerful laser and it shows. The beam is a beautiful blue and the power is unbelievable. The 10X beam expander works really well and will already be aligned. Includes key switch and soft touch tailcaps. Time on diode about 5 hours. Asking $220 + Shipping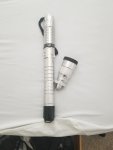 Sci-Fi Lasers Arcane 2.0 520nm 1W
This is by far my brightest laser even at only 1W. The powder-coated host is a little scratched and scuffed but the laser itself works great. The host and heat sink work well and the diode itself has less than 3 hours on it.
Asking $180 + shipping