Joined

Jun 3, 2020
Messages

264
Points

43
Exciting News for the Laser Hobbyist
Quantum dot laser diodes have been long sought after for their promise of superior emission quality and wide range of available wavelengths.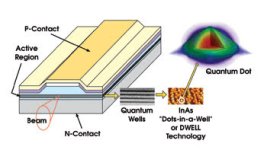 But due to the complexity of using quantum dots as a gain medium and lack of incentive for mass production, they have always been relegated to high cost research or industry settings. That is, until now.
(New QD lasers illuminating the night sky — Edinburgh, Scotland)
State of the art laser part developers at Realpoo have announced the first affordable quantum dot laser diode made for consumers and hobbyists. It is slated to ship later in April and come in two tunable versions in the visible spectrum: 400.1-555.8nm and 567.2-763.0nm.
Check out the specs and get a quote here
.
Most surprising is the relatively high power output of these diodes, with the website stating they can be driven up to 420.69mW of pure quantum goodness. Be careful though, any higher and you might rip the quantum fabric of space and time