Joined

May 19, 2019
Messages

122
Points

43
Hey folks, i just recently LED-ed a sharp 700mW 638nm diode.
Its quite odd to me since it has been functioning well for 1 week, without any issues. I ran it at 650mA using an AMC7135 based LED driver.
It just died all of a sudden.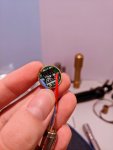 After a bit of checking, it seems like there could be 2 reasons.
Reason 1: I did not sit the diode far enough into the module. Since i did not have my vice with me when i constructed this laser, i just used a hammer and diode push tool to gently tap the diode into the module. I think i could have been too gentle, to the point where the front end of the diode base did not touch the module.
Evidence to support reason 1: Low waste heat. Through the 1 week of its life, i never experienced much waste heat from the laser diode at all. It didn't even heat up much after running for 3 minutes. This of course could be the fact that there was inadequate thermal contact between the diode and the module.
Reason 2: The cheapo LED driver killed the diode.
Evidence to support reason 2: There are no capacitors on the driver. This means that any ripple in the current will be sent to the poor little diode, damaging it in the process.
At the same running current, does an LED-ed diode still output the same amount of waste heat as a non-damaged diode?
Is the sharp 700mW 638nm more sensitive and delicate to current spikes compared to the mits 500?
Folks, whats your opinion on this? Personally, i think it could be a mixture of both reasons. However, i would also like to listen to all of your experiences. It sucks to kill diodes and i have already killed a mits500 previously (in my infinite wisdom, i pulled a rookie mistake and messed up the polarities) and i would like to prevent future diode deaths.