Hello guys,
So I was finally able to power up the laser diode from DTR.
I got two of these modules.
It is a "900mW 405nm Blu-Ray BDR-209 Laser Diode In Copper Module W/Leads & G-2 Glas Lens":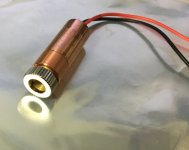 I have the IC-Haus IC-HKB-S08-TP laser driver chips but for testing purposes of the laser module,
I'm using an ordinary laser driver found on Amazon: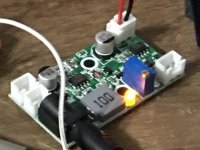 I was extremally careful to preset the driver voltage and current around 3 volts and 20mA. I then hooked up the laser module to the laser driver:
For some reason when I focus the laser light, I get a tiny dot along with a blurry square emission of light:
I cleaned the DTR G2 AR coated lens with mild soapy water with a cotton swap and dried it with a cotton swap and still the same results like above.
Here is a video for a better explanation:
What am I doing wrong that is causing the focused laser light to produce a tiny beam spot along with a squarish light emission?
Thanks for any advice.