Joined

Dec 1, 2007
Messages

1,368
Points

0
So, most of you probably have soldered together some standard diodes (like the 1N400x series) with a 1 ohm resistor to measure current and make sure your driver is operating properly.  Well, me too.  Except, I do it A LOT with making my drivers, so I decided to make it easy on myself and make a board I can quickly solder to the driver and test and remove again, but also be able to test at blu-ray voltages and red voltages, so here's what I made: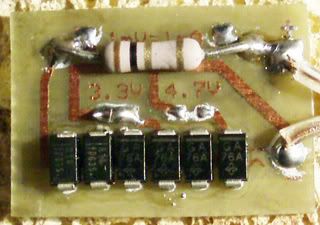 You can switch between Red and Violet loads by bridging the correct setting pads (shown as 3.3V and 4.7V on the above board).  You hook up the positive input of the board to the positive output of the driver and same for the negative, power up the driver and measure the voltage across the resistor; 1mV = 1mA.
The link below is the PCB layout, slightly modified from the one above and ready to print (should be 2.286 x 0.63 inches).  If you're ambitious enough to etch your own boards, feel free to use it.  You only need to use the side with the components, the other side really just has instructions and name, so you can use a single-sided board.
Right-click and Save As, the file is about 500Kb:
http://i13.photobucket.com/albums/a272/skimaniac3/lasers/testload-1.jpg
Parts list:
6x Surface mount diodes (standard 1A rectifier, DO-214AC or SMA sized):
http://www.mouser.com/Search/ProductDetail.aspx?qs=ZpPixqFcBtwZcQeNkRuA9A==
1x 1ohm 1W resistor (metal oxide, can be multi-watt as well, the board's big enough to fit up to 5W, I think):
http://www.mouser.com/Search/Produc...R0Jvirtualkey66000000virtualkey660-MOSX1C1R0J
The total parts cost for one is all of $.90, but you'll be paying about $7 in shipping costs
If you want, I can send you the ExpressPCB file and you can modify it to fit standard diodes, then you can just buy the 1N400x diodes and the 1ohm 10W resistor from Radioshack, but the board will have to be bigger to fit the large 10W resistor.
Also, the settings are about 2.8V and 4.2V worth of diodes, but the resistor makes it around 2.8-3.6V for Red or 4.2-5.0V for Violet, depending on the current output.