Joined

Jan 2, 2008
Messages

1,431
Points

83
$10 Burning Laser pointer 200-300mw 660nm 1 min duty cycle
SO you want a cheap burning laser - here it is the least expensive burning laser you can build - only $10 for the parts.
BUT, please read this entirely first though!
Cost
$2.50 Diode. (10x) (Single $3.50)
https://www.ebay.com/itm/10X-Mitsub...271258?hash=item210c89b19a:g:m-oAAOxy--NRsvkE
$1.50 Aixiz module (Single $2.38)
https://www.ebay.com/itm/10x-9mm-La...414557?hash=item215d12811d:g:rncAAOxyY3ZRuuXF
$ .10 Amc7135 (Single ?)
https://www.ebay.com/itm/100pcs-SMD-AMC7135PKFAT-MEL7135PG-L7135-SOT-89-LED-Driver-IC/293687775808?hash=item446127d240:g:9QgAAOSw9r1V9aCE
$2.33 AAA SS Host
https://www.ebay.com/itm/Pocket-Han...625105?hash=item3b4b228991:g:JkAAAOSw7bRfGn-k
$1.75 10440 battery (Single $3.50 - get an Efest IMR instead)
https://www.fasttech.com/products/1420/10009177/2528100-authentic-soshine-10440-aaa-3-7v-350mah
$ .75 Misc used including:
wire (4")
heat shrink tubing (1")
Kapton tape (6")
sandpaper (minimal)
solder (minimal)
flux (minimal)
HOWEVER:
Other suggested and/or necessary items:
GOGGLES!!!!
Bench power supply
Multimeter
3rd hand with magnifying glass
Soldering station
Vice
Diode press tool & extractor
Dremel
Laser Power Meter
Battery charger
1000s of hours reading and learning over 10 years
3-6 weeks to get parts
moderate experience at soldering ability and with tools & ESD & optics & electronics, etc.
MY POINT BEING, this is for a super simple DIY laser.
THIS WILL TAKE TIME AND PATIENCE!
If you are new to this forum and:
If you didn't understand the first line ENTIRELY, you need to do some reading on here first.
If you didn't understand the parts list, do some reading FIRST.
If you don't know what an aixiz housing is or a diode press, or the difference between acrylic & glass lenses, do some reading first.
Most seasoned members can show you the parts and you can get them, but there is a good chance you won't know what to do and YOU WILL waste your money, if you don't put the work into learning first.
SIDE NOTES:
1. you need to isolate the module from the host because the diode is case negative; the negative needs to be forced through the amc7135 to work, Thus the need for the Kapton tape
2. there is no reverse battery protection. If you put them in backwards or short it, you LED the diode
3. there is also no ESD protection.
Anyway, enjoy!
BTW, HERE IT IS. 240mw of red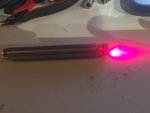 Last edited: