Joined

Dec 5, 2018
Messages

147
Points

28
Hello everybody, Luis here with a post of an awesome host by Lifetime17. Incredible craftsmanship at affordable prices I must say. This host came in yesterday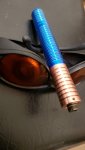 I quickly wanted to see how well it would suit a PLT450B 1.6w diode I had in stock and have been wanting to put it in a host for some time. I usually modify hosts to fit lasers inside but I wanted to do something special.
The only driver I had was that soft start driver for "445-450nm at 1.4w diodes" so I just went with it and it's working nicely
As you can see, Im using a 3 element glass lense coated for blue lasers but I am getting very noticeable aberrations although the beam is still very visible without the use of fog and the spot on the wall is extremely bright even at a distance, there's no way I can use this laser without my protection goggles
Here are pictures of the beam and aberrations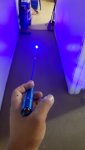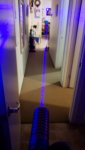 Thank you Rich! This host was exactly what I wanted!
Thank you guys for looking!
And remember! Safety first!