Joined

Oct 31, 2017
Messages

41
Points

18
So after my first BDR diode that went LED I ordered another one from DTR.I ordered it in 12mm copper module with nano driver set at 620mA.My last build with this diode was with survival laser driver set at 530mA it lasted two months.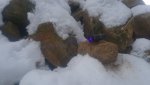 (my first build with BDR-209 in winter)
So I decided to go with nano because I was told that nano is is designed for this fragile diode so I hope it will last
long.
(first build BDR-209 LED)
Ok before I start I'd like to talk a little about safety.If you are new and you trying to build a laser like this one don't order diode first.First of all order a good expensive laser glasses.If you have got 200$ to spend on laser then you've got 30$ for glasses.You have only one pair of eyes and if you hit yourself with laser you maybe won't go completely blind, if you will be lucky you will see a black spot in front of you for the rest of your life(brain will "repair" that spot and you will see blurry for example you will never be able to read again depend on how big your brand new burn spot will be).I am not saying that you should wear glasses all the time just wear them on burning and when you are looking at the dot at close range mirrors etc.I like to see the beam too but you just need to know when it's safe and when not.
Next thing that I learned is that you should never trust your tailcap, you don't need to press button to power up your laser.It can turn on on its own if there isn't much space between battery and spring.Three days ago I was sitting on my bed and reading something on LPF with this BDR build in my belt holster.Then i smelled something burning.I had my phone on charger as I was reading so I thought charger was burning or something.I couldn't find the source of this burning smell (I totally forgot about my laser) until I felt a really painfull sting.It was like if someone pierced my skin with red hot needle.I immediately opened holster and tried to hit the switch but nothing happened(laser burned through holster and my t-shirt.I screwed of the tailcap and laser finnaly turned off (ofcourse).Spring on tailcap was bent when it touched battery.I fixed that by wrapping negative end of battery with some insulating tape.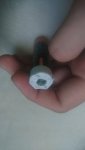 It didn't happen again.Imagine that you are sleeping and you have still batteries in your laser, under your bed and then it turns on....I am trying to tell you that you need to take safety very seriously.Yes accidents happen but why when you can just wear some glasses.
Ok with that being said.We can start.
I placed order and module arrived after 6 DAYS! It is awesome because it travelled distance of more than 7000 kilometers or ~4350 miles!
I couldn't wait to build it.I unpacked it and started.I placed a piece of aluminium foil on table and grounded it to socket ground(LD's are sebsitive to Electrostatic discharge).I also grounded myself (Added 2 mega ohm resistor between me and gnd if i touched something hot. For example exposed wire on soldering iron.)Next I placed on heatshrink tubes on wire so it won't short in host.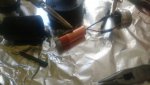 And then I put everything together.I used black anodized heatsink and G2 host is SL S4.I couldn't wait until I turn it on.I inserted the battery(It takes one 18650 battery) and clicked switch but.... Nothing.I soon figured out that problem was in tailcap with which I had problems later on (that burning thing).When I repaired tailcap (Unscrewed everything that i could and put it back together)and turned it on it finally worked!Beautiful color that ~405nm is. I see dot as something between blue violet and grey.Beam is pure violet.Beam divergence is perfect I could light a match at 3 meters (~9 feet) instantly.Nitrocellulose isn't problem too (it's easier to burn).405nm is great wavelength for burning because 405nm is absorbed in good amout even by light colored objects and because of divergence it has tight beam and high energy density.
Left 1W 405nm, right 5W 450
Closer look at 1W 405nm burned line
And for dutycycle: I am trying to run it at 30sec on 30sec off(on warm days off will be much longer)
Ok I know.Pictures.I will take some photos tomorrow and upload them here.
So this is my second post and first review of my build.I hope you like it and be safe.
Ps it's my first review please tel me what should I improve and sorry for my english
Edit: so as I said pictures are in my post somewhere below
Last edited: