Joined

Feb 3, 2020
Messages

49
Points

18
Hey guys, here is one of my 2020 additions to the collection, a NUGM03. This beautifully made compact host was made by Lifetime17, thanks Rich! The color of the powder-coated heatsink is a close match for the
525nm
wavelength. It's powered by a Super X-Driver set at 1.8A running off of 2x 18350 cells.
Set at 1.8A, this one isn't breaking the 1 Watt mark, however at 925mW it still 'appears' to be the brightest of all the builds I own.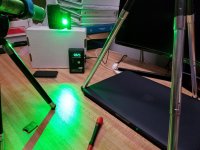 On to the Beamshots
----------
Note: All of the beamshots were long exposure shots taken with a GoPro Hero 8, I'm not sure why the beams come out looking 'staggered', but they still come out a bit better than ones I've taken with my phone.
While the camera doesn't pick up the wavelength perfectly, the following pictures of the
925mW - 525nm NUGM03
are alongside a
1.1W - 520nm NDG7475
(pictured below).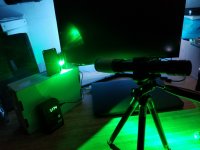 The NUGM03 on the next two pictures is the 'Lower' Beam